ISRO on Monday lifted off its Polar Satellite Launch Vehicle (PSLV-C35) at 9.12am carrying eight satellites at Satish Dhawan Space Centre in Sriharikota .While the advanced weather satellite named as SCATSAT-1 was successfully positioned in to the orbit, just after 17 minutes from the takeoff of PSLV-C35.
This is Isro's longest ever launch mission. As it will be the first time that satellites are being placed in two different orbits with sole rocket. The mission time span will be over two hours and 15 minutes, which is still in progress, the rocket is probable to fly into different orbit to place other seven satellites.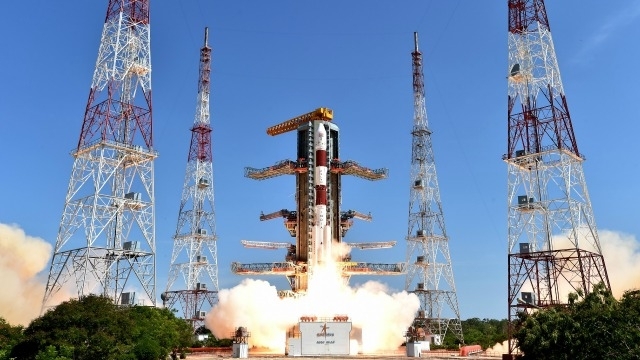 SCATSAT-1, the most important payload of PSLV, was placed in the polar sun synchronous orbit at an altitude of about 730km. SCATSAT-1 will provide weather forecast including cyclone detection and tracking . The satellite will be replacement of Oceansat-2 satellite which is dysfunctional after its life span of four-and-a-half years. However, Currently India is dependent on NASA's ISS-Rapid Scat for prediction of cyclone forecasting and weather prediction. The data generated by this mini-satellite will be used by NASA, EUMETSAT and NOAA.
As per the ISRO scientists, after the first satellite injection, PSLV-C35 is expected to coast bit further before its fourth stage engine is ignited and shut. This will lead the rocket to generate the required thrust to get into the polar orbit at an altitude of 689 km.
After the span of one hour, the engine will be restarted again and cut off for the period of about one minute for further coast and begin injecting the rest of the satellites. Rest of the satellites include, two satellites developed by educational institutions Pratham from IIT-Bombay and Pisat from PES University Bangalore. And five other commercial satellite from USA, Algeria and Canada.
However, ISRO's in its previous PSLV launches, PSLV-C34 in June 2016 and PSLV-C29 in December 2015. Demonstrated a technology named as Multiple burn technology .As per the previous occurrences, there might be a challenge of igniting and shutting the fourth stage engine twice within a short time span in cold and low gravity conditions. And the trickiest part is to cool down the engine between two restarts as well as secure the rocket and satellites from heat generated by the engine while it is operational.
The whole demonstration of PSLV-C35 and its technology meant that Isro can accommodate satellites meant for different orbits in a single rocket with saving cost.