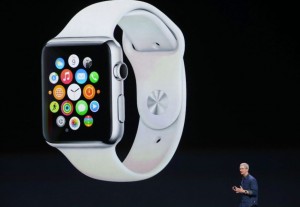 Initially, Apple did not create an application for the Apple Watch since this device had limited animation and loading time took several seconds. According to Phillip Ryn, founder of Impending, a mobile game developer, there were constraints as to what programs could be created.
However, Ryn now feels different about the situation. He stated that Apple will release a tool kit for software developers of the Apple Watch at the annual developer conference. With this, developers will have the ability to create even smarter applications that take full advantage of the device's motion sensors and heart-rate monitors, as well as others.
Ryn went on to say that nothing really impressive has been seen to date because he felt that his company faced too many restrictions. However, it appears as if those restrictions are being lifted, making it possible to add to the approximately 3,500 programs released.
According to Tim Cook, chief executive of Apple, gaining additional Apple Watch applications is crucial. As his first new product since becoming the company's leader four years ago, he recognizes that applications outside developers will boost sales of iPads and iPhones significantly because of enhanced capabilities.
He also stated that there is great potential for third-party applications to become vital selling points for the Apple Watch. Currently, the watch is deemed by many as being nothing more than an expensive timepiece that operates via an iPhone.
Along with more powerful applications for the Apple Watch, software advances for the Mac operating system, OS X, and iOS will be highlighted at the conference. A new streaming music service being developed with Beats is also slated to be unveiled.
While Apple has some exciting things to share, the new Apple TV, which is a set top box for televisions will not be part of the conference. Just last month, this product was planned to be a big part of Apple's unveiling along with the developer's tool kit for making applications for the iPhone and an improved remote control but considering the top box is not ready for prime time, it will be absent.
Following many months of preparation, Apple introduced the Watch spread out over nine countries, with plans for additional distribution this month. Although Apple has not provided details about sales of the Apple Watch, on last April's earnings call it was confirmed that the product exceeded available supply.
Cook said Apple is ecstatic about the number of applications currently available for the Watch but by adding more in line with customer demand will be a huge step forward. Last Month, Jeff Williams, senior vice president of operations for Apple said that developers would have the ability to write applications directly for the watch within the near future.