Xiaomi has released the much-anticipated Mi Notebook Air shortly called as Mi Note Air. Equipped with an all metal body, the laptop is set to compete with the MacBook Air in all departments.
At the launch event, Xiaomi compared the Mi Notebook Air with MacBook before the audience by presenting the facts with graphs and figures. In addition to Mi Note Air, Xiaomi also unveiled Xiaomi Redmi Pro and accessories.
Xiaomi launched two variants of Mi Note Air. The 12.5-inch model is priced at CNY 3499 (Rs. 35,300) and the 13.3-inch variant is available at CNY 4999 (Rs. 51,400).
Xiaomi Mi Notebook Air Features
Xiaomi has integrated the laminated display in Mi Notebook Air to decrease the amount of glare emitted from the display. This feature will be useful if you would like to work with the laptop in bright sunlight. The laptop is also capable of unlocking via the Mi Band 2.
The laptop also features a full-sized keyboard with backlit keys paired with a 1.3mm stroke depth. The Mi Note Air also offers AKG branded dual speakers coupled with Dolby digital surround sounding system.
The Mi Cloud Sync integrated with both 12.5-inch and 13.3-inch variants of Mi Notebook Air enables you to sync phone contacts, messages, gallery, notes, documents and other crucial data. This feature will help in case if you face any data loss.
Xiaomi Mi Notebook Air Specifications
The 12.5-inch variant of Xiaomi Mi Notebook Air features a Full HD display, Intel Core M3 processor, 4GB RAM, 128GB SATA SSD with the ability to expand the storage by adding additional SSD drives.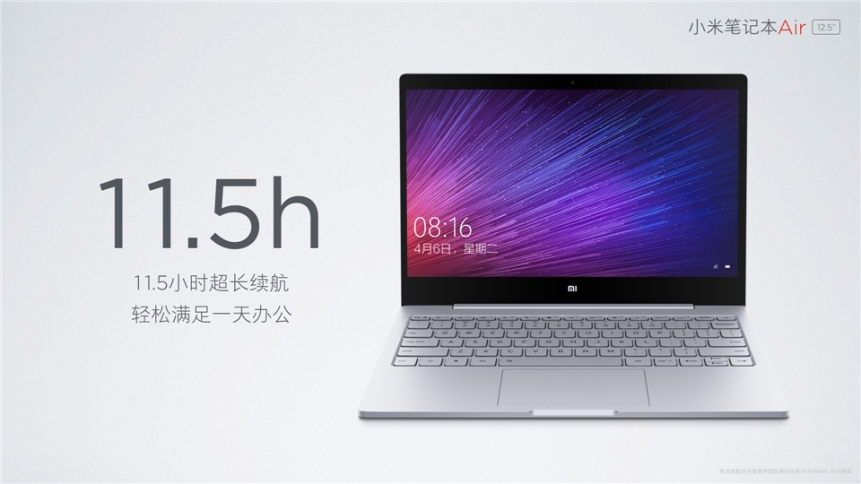 With an expected battery life of 11.5 hours, the Mi Notebook Air is said to be 12.9mm thin and weighs 1.07kg. The laptop is thinner than the MacBook 12-inch model, which has a 13.1mm thickness. However, the weight of Mi Note Air 12.5-inch model is heavier than Apple MacBook.
Meanwhile, the 13.3-inch Mi Notebook Air features the same FHD display with a 5.59mm bezel, a sixth generation Intel Core i5 processor, 8GB DDR4 RAM, 256GB SSD, Nvidia GeForce 940MX GPU with 1GB of GDDR5 VRAM. Like in the 12.5-inch model, a secondary slot for adding SSD is provided to facilitate future expansion.
The laptop offers 9.5 hours of battery life with the ability to charge 50 percent in just under 30 minutes, which is an unbelievable phenomenon.
According to Xiaomi, even though the display size is same, the Mi Notebook Air is equipped with an 11-percent smaller body than the Apple MacBook Air. Regarding thickness, the Mi Note Air is 14.8mm thick when compared to MacBook's 17mm thickness.
Loaded with Windows 10 Home edition, both the variants of Mi Notebook Air features an HDMI port, two USB 3 ports, one USB Type-C port in addition to a 3.5mm headphone jack. You will not find an Ethernet port or optical drive like traditional laptops. However, you can make use of an external DVD drive.
Available in Silver and Gold color variants, the Mi Notebook Air can be personalized using the official stickers, which was released at the launch event.
You can also add useful premium accessories like a Leather Sleeve, PU Leather Sleeve and Microfiber Sleeve to your shopping cart starting at CNY 60 (Rs. 700).