A new report has emerged online stating that Xiaomi has applied for over 6,00 patents globally, since its establishment, back in 2010.
Earlier in October, the president of Xiaomi, Lin Bin, said on the Chinese micro-blogging website, Weibo, that Xiaomi (which is currently valued at US$45 billion), as of October 30, has precisely filled 3,738 patents, more than 40% of which have been submitted to Japan and South Korea.
Since its inception back in 2010, Xiaomi has applied for more than 6,000 patents, hence, given the current growth rate, we can safely assume that the Chinese-startup can manage to attain the 10,000 benchmark by the end of next year – 2016.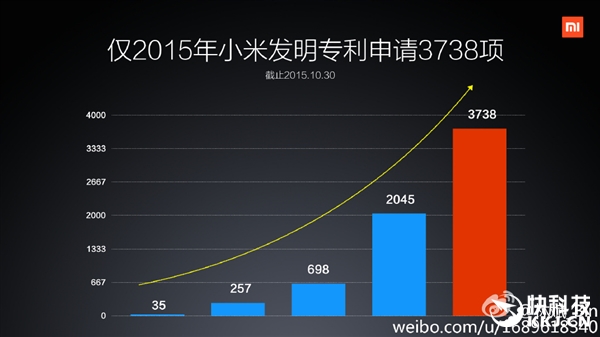 Global vice president of Xiaomi, Hugo Barra, mentioned in an interview with CNBC, that besides patent filling, over the aforementioned course the company has speculated on 56 startups, covering a variety of aspects of the tech business; accomplishing the ongoing development of a complete ecosystem, ranging from mobile phones, tablets and accessories, to smart home gadgets and much more.
Barra claims that the particular strategy contributes to the progress of becoming a global consumer electronics giant, such as Apple and Samsung rivals.
MUST READ: Analyst says Samsung will shut down phone business in 5 years
Another executive, Lei Jun, states that Xiaomi will fundamentally focus on its core business, which primarily involves smartphones and tablets, though the company is considering to launch a subsidiary brand that will host future ventures, thus avoiding any confusion.
Jun hopes that Xiaomi's painstaking efforts will prove fruitful for the Chinese market, to the degree that its products will supplant the current popular ones, which deliver extremely low quality. He wishes that Xiaomi will become what Sony is for Japan and Samsung for South Korea.
Furthermore, at the time of writing, Xiaomi has fallen to the second place of the best selling phone maker in China, overcome by the circa 20-years old Huawei leader.
It is worth pointing out that both Chinese companies constitute a severe threat towards Samsung's phone business, as they offer same specs and design quality for significantly lower prices, affecting Samsung's dominance both in Asia and Europe.
Via: MyDrivers.com