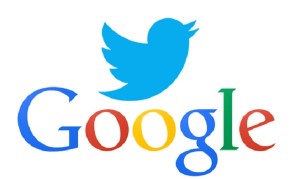 Twitter and Google have announced that they would be joining forces in order to increase user traffic to its websites. As part of the partnership, tweets from Twitter will now be displayed in Google search results for related terms. For example, a Google search for Taylor Swift would now pull up some of her latest tweets on Twitter. Google product manager Ardan Arac said in a blog post, "It's a great way to get real-time info when something is happening, and it's another way for organizations and people on Twitter to reach a global audience at the most relevant moments."
The move is believed to benefit both companies. Google will get more real-time results in its search queries and Twitter will get its tweets before a wider audience, some of whom will be intrigued enough to go to Twitter's website and boost its user traffic numbers. This would not be the first time that tweets have been displayed in Google search results. A previous partnership between the two companies that started in 2009 and ended in 2011 also had Twitter tweets displayed in Google search results.
The deal will start with search results within the Google app and mobile Web. A desktop version will be launched in the coming months. The service will start in the US and will be extended gradually to other countries in the following months. Users won't see Twitter's advertisements on Google searches as yet, however that may change in the future. Microsoft's Bing search engine already has a similar function of integrating Twitter messages into its search results.
Increasing user traffic is one of Twitter's primary goals. Lower user traffic in recent months has affected Twitter's stock price, which has dropped 16.5 percent since its initial public offering in November 2013. One click on a tweet appearing on a Google search page will take the person to Twitter where they can share, comment and access more content. Twitter's real-time social media stream, called Firehose, shoots roughly 9,000 tweets per second.