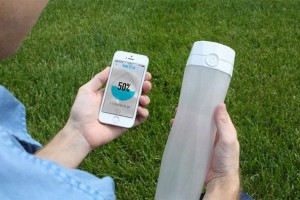 Everyone knows the importance of drinking an adequate amount of water each day yet most fall short. Especially during the hot summer months when people are active and sweating more than usual, proper hydration is essential. Without drinking an appropriate amount of water, there is risk of overheating and other health-related problems.
To remind people to drink water, a number of applications have been developed within the past year for mobile use to include AquaAlert and Waterlogged. However, with the launch of the smart bottle, people are being reminded to drink water but in an unexpected way.
To help keep track of daily hydration, the new smart water bottle is designed to glow when a person should take a drink of water. The product is known as HidrateMe, which has already become a huge success. As part of the Kickstarter Campaign, close to $200,000 was raised, well beyond the initial goal of $35,000. Considering there is still another month in the campaign, this smart bottle will reach an incredible level of success never imagined.
Today, more and more people are using different personal monitoring devices in an attempt to live a healthier and longer life. The new HidrateMe smart bottle falls in line with other products that monitor sleep patterns, air quality, and overall fitness levels.
Based on the level of sales for the smart water bottle, it becomes evident that people do in fact need a reminder to drink water. With busy lifestyles and tremendous responsibility, people sometimes forget the essentials of daily living. Because the HidrateMe smart bottle is doing so well, a company in China is planning to develop a product that is very similar.
This smart bottle is made from BPA-free plastic and can hold up to 24 ounces of water. As part of the design is an internal sensor that keeps track of the water a person drinks. This information is then transmitted to an associated application via Bluetooth on a smartphone. In addition, the application gathers data pertaining to activity levels and physical stats, which is then calculated to determine the right amount of daily water intake required.
The application features a water drop that as an individual drinks, the graphic fills up to the point of becoming completely full, which means the goal has been met. Even a person's location can be tracked, which then makes adjustments to the amount of water intake recommended. For example, if an individual were hiking in the foothills of Arizona or in a humid state like Florida or Mississippi, the application automatically adjusts to increase water intake.
According to the makers of the HidrateMe smart water bottle, it works with most fitness trackers. Therefore, if one of these trackers indicates biking or jogging, the amount of water needed will be increased in the water application.