Samsung Galaxy X smartphone is expected to be launched at the upcoming MWC 2017 reportedly with a folding and flexible OLED display. We have seen few flexible devices such as the LG G Flex series, which has the ability to flex marginally. Samsung also produced curved displays for the Galaxy Edge series, where a flexible panel is fixed under curved glass. However, the Samsung Galaxy X will be equipped with a display panel that folds along the middle without creasing, cracking, distorting the image or any other negative results. Codenamed as Project Valley, the Galaxy X will reportedly feature a clamshell, flip-phone like design. This will enable you to fold into a compact and pocket-friendly package without sacrificing the size. Moreover, the curved display will have a Super AMOLED display with an extra high resolution.
Samsung Galaxy X – One of five devices in 2017
According to industry analysts, Samsung Galaxy X will be one of the five flagship premium smartphones expected to be launched by Samsung in 2017.
Samsung Flexible display demonstration
Recently, Samsung demonstrated its flexible Super AMOLED display technology, which is a dedicated display conference in San Francisco. The prototype revealed by the company looks like a more matured one, which looks like a production ready display.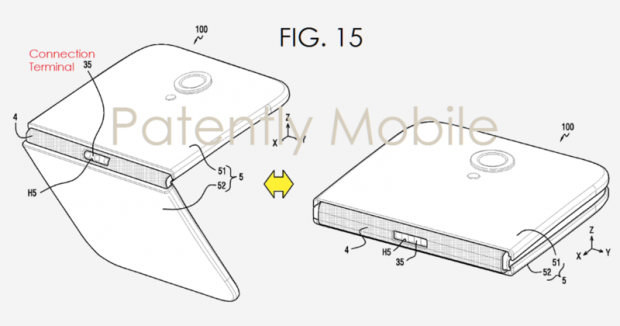 Samsung demonstrated it using a 5.7-inch FHD OLED display with 386PPI. The display doesn't include the touch layer even though the thickness is only 0.3mm thick.
Commenting on the development, a leading tech portal disclosed that as per the leaked patent application, an innovative hinge system enables the screen to fold up into a little pocket. It will curve around and prevents from being bent or creased. The display goes flat when unfolded and acts like a conventional smartphone.
Samsung Galaxy X charging functionality
The recently leaked patent application also showcases how charging will function in the upcoming smartphone. Instead of having a port on the bottom of the device, the foldable handset's charging port can be located in the outer hinge. This will be exposed when you fold the phone in the closed position.
According to Bloomberg, there are two flexible and foldable OLED display devices currently under development inside the company's development labs. If rumors are to be believed, you can expect a second foldable smartphone in addition to the previously rumored Samsung Galaxy X smartphone.
Working of foldable smartphone
As per the available information, the foldable smartphone automatically folds in half like a cosmetic compact. This means that you will be able to work with the smartphone like a normal touch display when unfolded.
Combined effect of smartphone and tablet
Regarding the second device, it will be a 5-inch display while folded. However, if you unfold the device it will look like an 8-inch display form factor. The main aim of Samsung is to convert the phone into a tablet when unfolded. There are reports that the Samsung Galaxy X features a 4K diamond PenTile mechanism.