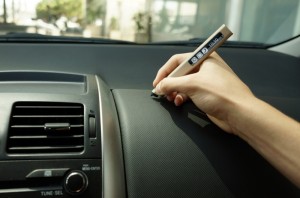 Although the concept is not new, there is a new player in the arena of digital pens known as Phree. With this pen, an individual can document and share a digital copy of a note, scribble, or drawing regardless of surface. Developed in Israel, when Phree is paired with a smartphone, the need for a pen and paper is completely eliminated.
Instead, someone with a smart phone has the ability to make notations using the pen on the actual device screen. Phree looks very similar in both size and shape to a traditional pen, which makes it easy to use.
Gilad Lederer, co-CEO and co-founder of OTM Technologies, the makers of the Phree smart pen, explained that the pen works by a laser beam being shot through the tip. Using virtually any surface, drawings or handwritten notes are digitized in almost instantaneous sync with the smartphone. These drawings and notes are already processed by algorithms, making it possible for them to be converted into a motion signal.
As stated by Lederer, an individual can write anywhere using any surface while creating direct digital ink on the target device. This means that no matter what type of surface an individual uses, the target device, whether a smartphone, wearable watch, virtual reality glasses, TV, or something else, captures everything written or drawn.
The Phree smartphone pen also works with current software to include Viber, EverNote, and the Handwriting Keyboard offered by Google. In addition, this pen is designed to connect to virtually anything as long as there is a connection through Bluetooth. An individual can write on the surface and then simply scroll the screen for additional space if needed.
A key benefit of this digital pen is that drawings and notes are visible on the target device simultaneously, which is translated into Word font for almost every language. Writings are extremely fast but also clear and easy to read. This pen is also designed to work at a distance up to one-inch from the tip to the surface. All this plus no limitation as to the amount of space is what makes the Phree pen a truly remarkable device.
Lederer stressed that the possibilities for the Phree smartphone pen are endless. Because of this, the digital pen can be used for non-business or business needs by professionals from all industries. Using the pen, kids can create drawings just for fun while at the same time, top executives can work, annotate, and red-line documents at home, in the office, while on a plane, or during vacation time.
The Phree smartphone pen campaign was launched by OTM this past May. At this time, the pen is set to become available for purchase on June 26 although pledges for orders have already well exceeded company expectations.