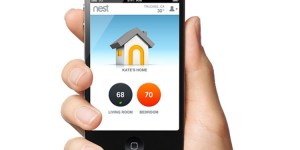 Nest Labs has released its newest product line and the company has seemed to shift its focus away from energy savings and towards home security. The name of the company has long been synonymous with "energy efficiency" but that has changed with this latest line of products. The advertisements for the company's signature "smart" thermostat touted that it could learn your patterns and save you power. The concept was so popular that last year, Google bought Nest Labs for $3.2 billion.
The new thermostat released by the company has a number of new features, including a smoke and carbon monoxide detector and a high definition camera that allows you to keep watch over your home remotely. The carbon monoxide and smoke detector can recognize several different types of fires. The software for the thermostat has been updated to provide temperature alerts and can support a multi-zoned home with up to 20 thermostats. There is also a feature that notifies customers when the temperatures drop below a certain point to help them avoid having to deal with frozen pipes.
Nest has also unveiled Nest Cam, a home camera system that allows you to monitor activities in your home with your smartphone or tablet. The video cam has a magnetic base, captures 1080p video over Wi-Fi, and transmits it using 128-bit SSL and a unique 2048-bit RSA key for security. The company has also released a new version of their app that users can use to control all of their Nest devices. The Nest app is now version 5.0 and is available for both iOS and Android.
The newest offerings are less focused on energy savings than they are on home protection. The company is reportedly planning to unveil the next slate of features and partners for its Works with Nest program during the third quarter of the current fiscal year. Greg Hu, Nest's head of product marketing, told Greentech Media that the company is "working on a whole lot of stuff on the energy front," and expects energy-focused announcements to be made in the third quarter, though no specifics were offered.