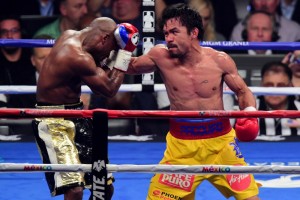 The entertainment industry has been fighting against video piracy for years. Since people found that they could copy movies and TV shows onto VHS tapes decades ago, video piracy has become more and more widespread as technology has evolved. Now, live streaming from mobile apps is another new piracy headache for media companies. This was prominently on display during Saturday night's big boxing match between welterweight boxers Floyd Mayweather Jr. and Manny Pacquiao.
Thousands of people watched unauthorized broadcasts of the fight streamed using the mobile apps Meerkat and Periscope, which let people live-stream the pay-per-view bout by capturing their TV screens with the cameras on their smartphones. With the pay-per-view price reaching $100, many people were interested in finding ways to watch the fight for less or for free. The effect of the pirated streams on the bottom line of the fight will not be known until the audience numbers are released later this week.
Technology and its acolytes have always been able to find a way to make their content free. Media executives liken video piracy to a never-ending game of Whac-a-Mole. As soon as networks and studios figure out a way to take down websites that illegally broadcast sports and other live events, another emerges. The Motion Picture Association of America has fought legal battles against different video piracy technologies since the early 2000s with little success. If you really want to find a video online for free, there is a good chance that you will be able to find it somewhere.
HBO and Showtime, which jointly broadcast the fight, anticipated that piracy would be a problem soon after the fight was announced. The companies were able to obtain legal injunctions against several sites that had advertised unauthorized streams of the fight prior to the fight being broadcast. However, the company was unable to stop all of the unauthorized streams from occurring while the fight was going on.
Periscope, which is owned by Twitter, had already come to the attention of HBO, which sent takedown notices to the company after people used the app to stream episodes of "Game of Thrones" last month. A Twitter spokeswoman said the company received 66 requests from copyright holders about unauthorized streams of the fight and 30 of the streams were disabled, while the others had stopped streaming or were no long available by the time the company was alerted to them.