REDMOND, WA- Microsoft Corp. (NASDAQ: MSFT) The full version of Skype for business has finally landed on Apple's iOS 9 mobile operating system, though not on Google's Android yet.
Skype for business has been in preview mode for iOS since August, meaning that it was available solely for exclusive users, who reported back to Microsoft for further development. Two months after, the application finally goes public on the iOS App Store for both the iPhone and the iPad. The new update will reportedly deliver simplified navigation and addresses the sign-in problems of Lync 2013 on iOS 9.
Moreover, a contact search bar, upcoming meetings, and a list of recent conversations that took place across devices have been integrated into the app's dashboard. From now on users will be able to search their address book, check old chats, and RSVP to events with a single tap, without the ordeal of jumping from one page to another.
During a chat session, users' screen will project a full-screen video with larger buttons to add participants, mute, and manage the call. In addition, simultaneous view of shared content and speaker's video is also available with the new update as well.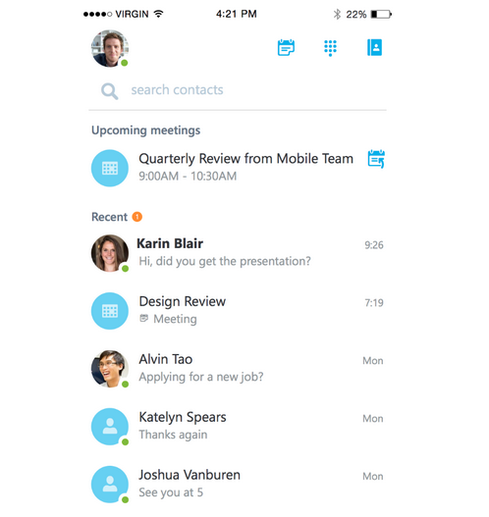 In a respective press release, the company promises to bring with upcoming updates the ability to view PowerPoint slides during a video call. In the meantime, users can only view PowerPoint slides via desktop sharing.
Microsoft made sure to enhance security tweaks that were available in the application, as Skype for Business now features a security boost to Office 365 customers, who now have access to Active Directory Authentication Library-based (ADAL) security. In addition to that, IT admins are now provided with the option of setting up multi-factor authentication, which essentially requires users to enter their username and password in order to receive a call, respond to a text message or even open a notification.
Skype for business is available for iOS 9 iPhones and iPads on the App Store. The Android version is still in preview mode, though it is most likely to launch in the next few weeks tops.