Microsoft has just announced the new Surface Pro 4 tablet, so it is time to bring it head to head with Apple's iPad Pro.
Hybrid tablets – tablets that can be operated as laptops – is a fast evolving industry that consists of the elite tech giants that can keep up with the pace. Even so, there are only two hybrids that stand out among the others, making the comparison a lot easier.
We're obviously referring to Apple's iPad Pro – the company's first professional hybrid that sports the highest features serving as a flagship for the American colossus – and the Surface Pro 4, Microsoft's latest pride. It actually feels like the Surface Pro 4 was designed exactly for that reason; to take it up on the iPad Pro.
So let's see how the two hybrids handle the competition when put head to head in terms of design, hardware, software, specs, features and alike.
Design
As much as it hurts to admit it, it's time we all agree witht the fact that Microsoft has never been a leader when it came to the design of any product. And kind of the same goes for the Surface Pro 4.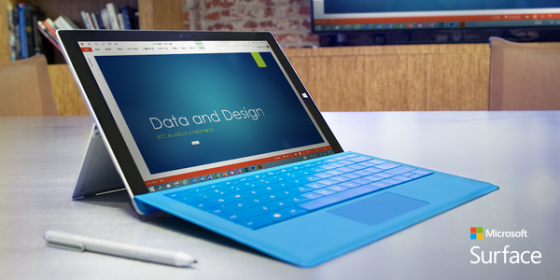 Don't get us wrong, it is not ugly or poorly designed, on the contrary, it is a playful and convenient design. But still, Apple gets all the credit for designing devices that go hand in hand with prestige, style and fashion.
Other than that, there are some more noticeable differences.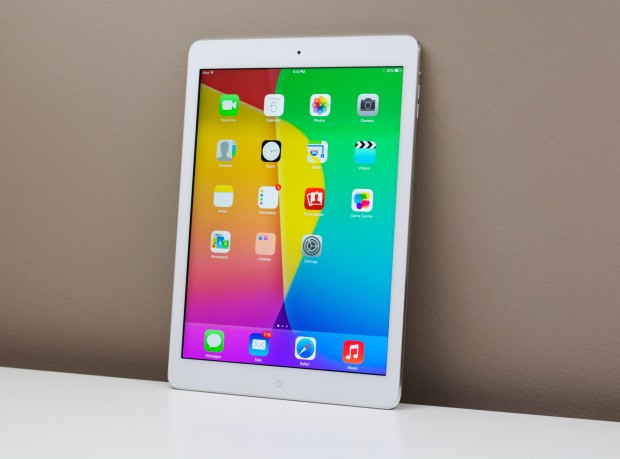 For instance, the Surface Pro 4 is slightly smaller than the iPad Pro. It features a 12.3-inch display to Apple's 12.9-inch screen. Microsoft's tablet comes in many variants, with the lighter of them weighing 766grams, which is still heavier than Apple's 712grams (with the keyboard). So Apple clearly winds this round.
But just to give readers a general idea, the Surface Pro 4, like the Surface Pro 3, features a bright, silver-coloured magnesium shell. It also packs a 267ppi, 2,736 x 1,824 resolution, into its 12.3-inch screen, compared to the iPad Pro's 264ppi resolution, which equates to 2,732 x 2,048 resolution.
Specs & Features
That's probably the only category where the two hybrids are so close that it's hard to decide which one could keep an advantage over the other.
Microsoft's Surface Pro 4 is available in more than one or two variants, starting with an Intel Core M3 or i5 processor, or a Core i7, Intel Iris 540 and 16GB of RAM, which is double the memory of the Surface Pro 3.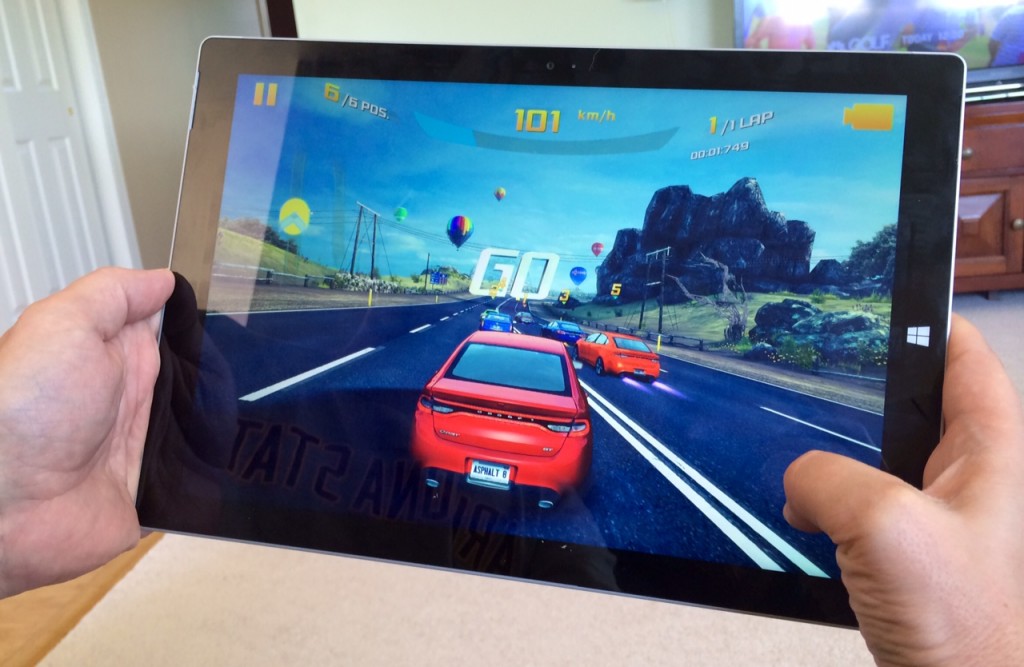 The iPad Pro, on the other hand, features an A9X processor, which should run at a max clock-speed of 2.25GHz. Surprisingly enough, Microsoft's hybrid runs at a minimum clock-speed of 2.2 and 2.3GHz when embodying the Intel Core M3 or i5 processors (the Intel Core i7 runs at 2.7GHz).
It may not be exactly wise to compare two different processors based solely on the displayed clock-speed, but it is probably the best next thing to do when an actual in vivo test cannot be conducted.
As for the storage, users would be glad to know that the Surface Pro 4 comes with a microSD card reader (up to 1TB) and a Mini DisplayPort, whereas the iPad Pro features only the Smart Connector, which is versatile, but will upset anyone longing for traditional ports.
Software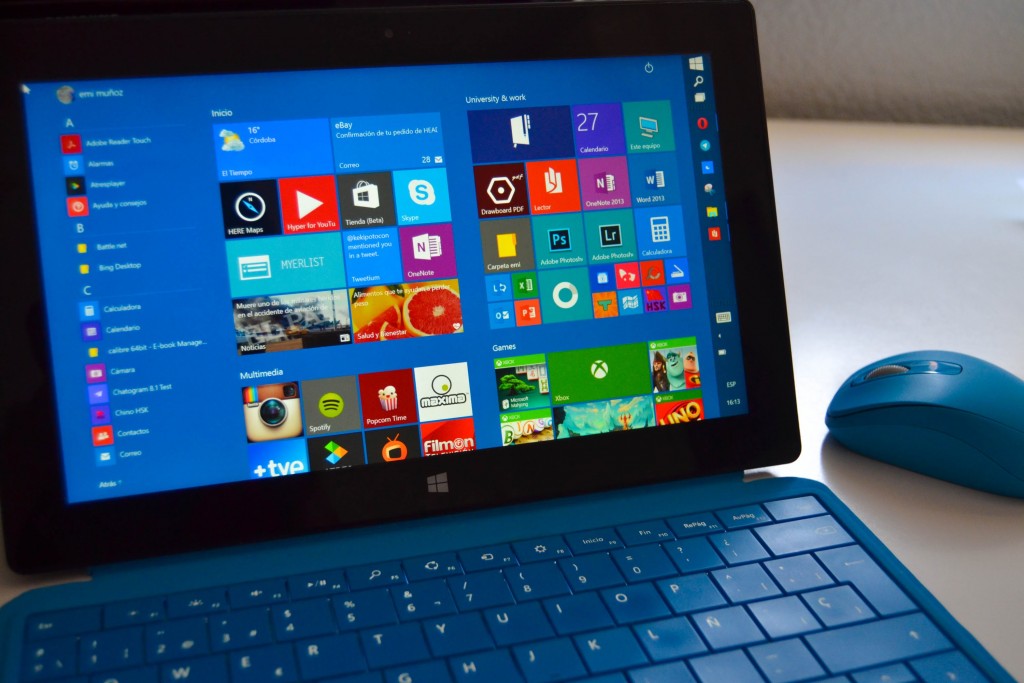 No one can really expect a comparison between such different operating systems, right? The Surface Pro 4 is powered by Microsoft's latest version of Windows, the Windows 10, which has its own ups and downs concerning reported issues on privacy, but for the most part allows the owner to create a more personalized environment and can undertake any task that comes in mind.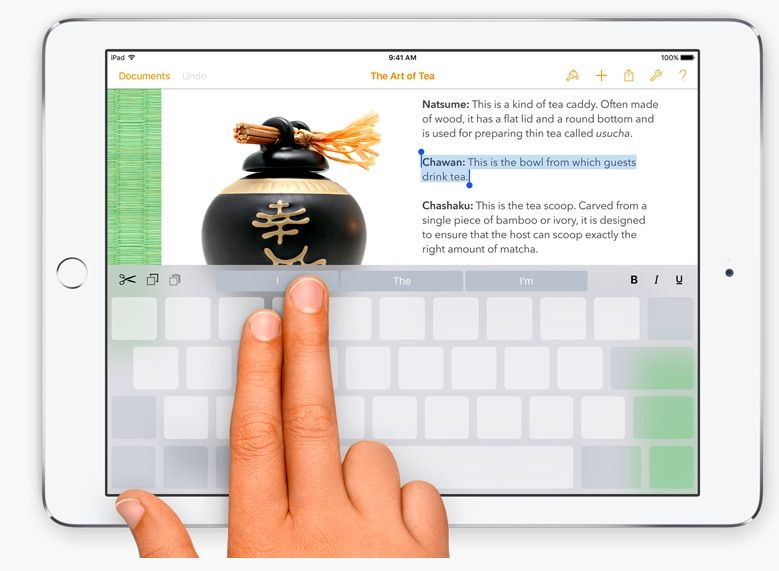 Apple's counterpart runs on iOS 9, the company's piece of software aimed for its mobile devices. As the name suggests, mobile, iOS is substantially restricted compared to Windows 10; the latter being the core of all desktop software.
And since both tablets are made for professional purposes, we cannot really see how iOS would make businessmen's life any easier.
Hence, in terms of software, Microsoft's Surface wins the round with ease.
Price & Availability
The Surface Pro 4 starts at $899 while the iPad Pro from $799, so there is not really much to say here. What each customer has to do is balance his budget with the performance he's looking for.
The verdict
It is indeed a challenging comparison to get results from, but based partly on personal preferences, we would say the Surface Pro 4 is the choice to go with, as its hardware is on par with the iPad Pro in almost every aspect and is also more practical and accessible due to Windows 10 that powers it.
Still, if one wants to put more weight to the looks and go for something that feels more stylish, then the iPad Pro is the best match.