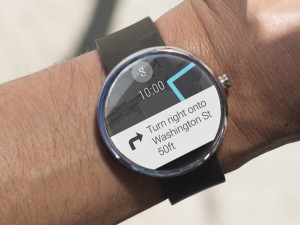 Google has just released its first major update to its Android Wear platform, including many new features that are bound to be intriguing for consumers. The update, Android 5.1.1, unleashes a host of features for both new and existing Android Wear smartwatches. The updated platform has already launched for the LG Watch Urbane and is now being rolled out to other devices. The update will gradually be modified for other devices depending on location and manufacturer.
One of the most interesting features of the new platform is the upgraded user interface. The new interface includes an easy to use app launching page with the icons of available apps displayed. The interface can be accessed with a tap on the home screen of the smartphone. From the apps list, you can access your contacts, send a text or email, or initiate a call on your synced smartphone. Flicking your watch-wearing wrist away from you now scrolls forward one Android Wear card, while flicking towards you goes back one.
Another new feature that is sure to interest consumers is the new 'cloud' features for Android Wear. Using the Wi-Fi radio built into Android Wear watches, alerts, notifications, and messages can be received even if your smartphone is in a different location if both devices are connected to 'know' Wi-Fi networks. This feature is currently available on the LG Watch Urbane, the Moto 360, the Sony SmartWatch 3 and the Samsung Gear Live.
The Android 5.1.1 update also has new security features. Now, you can add a pattern lock to your Android Wear watch to protect your information from prying eyes. You can also ring your smartphone directly from the watch, even if the phone has been set to silent, to make the phone easier to find when misplaced. More information about the features related to the update will be disclosed as the program is revamped for different Android Wear models.