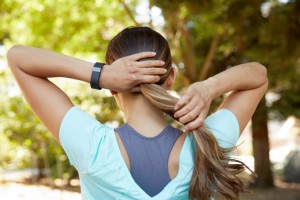 San Francisco-based Fitbit, a leading maker of fitness- and health-tracking gadgets, wants to raise $100 million in common stock on the New York Stock Exchange in its initial public offering, according to a filing with the Securities and Exchange Commission. The lead underwriters for the IPO are Morgan Stanley, Deutsche Bank and Bank of America Merrill Lynch. In its five previous funding rounds, Fitbit has taken in $83.5 million from investors including SoftTech VC, Foundry Group, Felicis Ventures, True Ventures, SoftBank Capital, Sapphire Ventures and Qualcomm Ventures.
Fitbit devices are popular and appeal to a much wider range of consumers than just fitness buffs. Fitbit makes a range of simple devices costing between $60 to $250 that are clipped or strapped to the body for counting steps, measuring sleep activity and monitoring workouts. The companion software for smartphones and a Web application both work with Fitbit to display stats, provide advice and training tips, and let users track caloric intake and other daily health metrics.
Wearable technology has caught the attention of the mainstream public with the launch of the Apple Watch. Today, almost every traditional technology company has a device for sale or a hand in the market. The burgeoning industry has investors and entrepreneurs paying close attention to the trajectory of Fitbit and competitors Jawbone and Pebble. Traditional apparel and jewelry companies have also expressed interest in the industry, including watchmaker Fossil, fashion house Open Ceremony and clothing company Under Amour.
Fitbit be the first wearable tech-focused company to go public. The company was launched eight years ago in October 2007 by James Park and Eric Friedman. The company has grown to 579 employees under Park, acting chief executive, and Friedman, the chief technology officer, as of March 31.
Today, Fitbit is the most dominant player in the category by a wide margin. Fitbit captured a 68 percent share of the activity tracker market by dollars in 2014, up from 58 percent of the market in 2013. The company claimed to sell nearly 11 million devices last year, a 142 percent increase from the prior year, and made $745.4 million in sales, a 175 percent increase from the previous year.