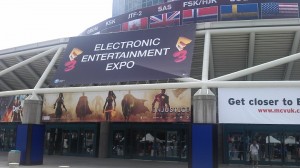 Thousands of gamers and fans descended on Los Angeles for video gaming's largest convention: the Electronic Entertainment Expo, also known as E3. The Entertainment Software Association (ESA), the trade group that organizes E3, has made the event into the video game industry's biggest annual conference. Microsoft, Nintendo and Electronic Arts are some of the biggest game developers presenting at E3 this year. The expo runs through June 18 at the Los Angeles Convention Center.
Bethesda Game Studios and Square Enix are among the publishers promoting forthcoming titles at the expo. Bethesda showed off the latest installments of "Fallout" and "Doom," two of the company's most popular titles. A new demon-blasting, action-focused "Doom" will make its debut in spring 2016. In this installment of the game, players can play on a pair of levels: one set on Mars, the other set in Hell.
Bethesda director Todd Howard went into detail about the post-apocalyptic role-playing saga "Fallout 4," scheduled for release on November 10. The game is set in a virtual rendition of Boston plagued by a nuclear attack. According to Howard's presentation, a mobile simulator game called "Fallout Shelter" will be released after the conference and a companion app for the main game will be released alongside the game in November.
Microsoft had its own surprises for the event's attendees. Microsoft Game Studios Vice President Phil Spencer announced that Xbox One consoles to be released this holiday season will be able to play a limited selection of Xbox 360 games. The backward compatibility of the next-generation console will allow players to access their digital collections of Xbox 360 games and download older 360 games from disc. Many Xbox 360 gamers has expressed reluctance to move to the next-generation console if it meant that they could no longer play their favorite 360 games.
In addition to video games, many companies are using the expo to showcase their newest technological toys, notably virtual reality systems like the Oculus Rift, Project Morpheus and HTC Vive. According Michael Gallagher, president of the Electronic Software Association, there will be more than 270 exhibitors at this year's E3, showing over 1,600 products.