According to the latest report published by Ookla's Speedtest, the average download speed through broadband has surpassed 50 megabits per second in the States. With the new 54.97 Mb/s average download speed of fixed broadband connections, US crossed the half century mark for the very first time.
The new average speed comes from data collected throughout the first six months of 2016. The speed has increased above 40 percent in comparison for the same in the previous year. Although this speed is abundant for seamless web browsing and uninterrupted video streaming, this is just a drop compared to the ocean of capabilities of the fiber optics.
Average upload speed across the US experienced even more increase. At 18.8 Mb/s, it is more than 50 percent more than the upload speed in the previous year. The rapid adoption of the FTTH (Fiber To The Home) technology has contributed the most to this achievement.
The greater internet speed by companies using optical fibers has forced the non-fiber internet providers to increase their speeds too. Even though Verizon is one of the very first bring the new technology, Google Fiber is the one that spread the optical fibers like wildfire. The huge popularity and advantage of this modern technology have even motivated internet providers owned by communities or municipals to switch to optical fibers.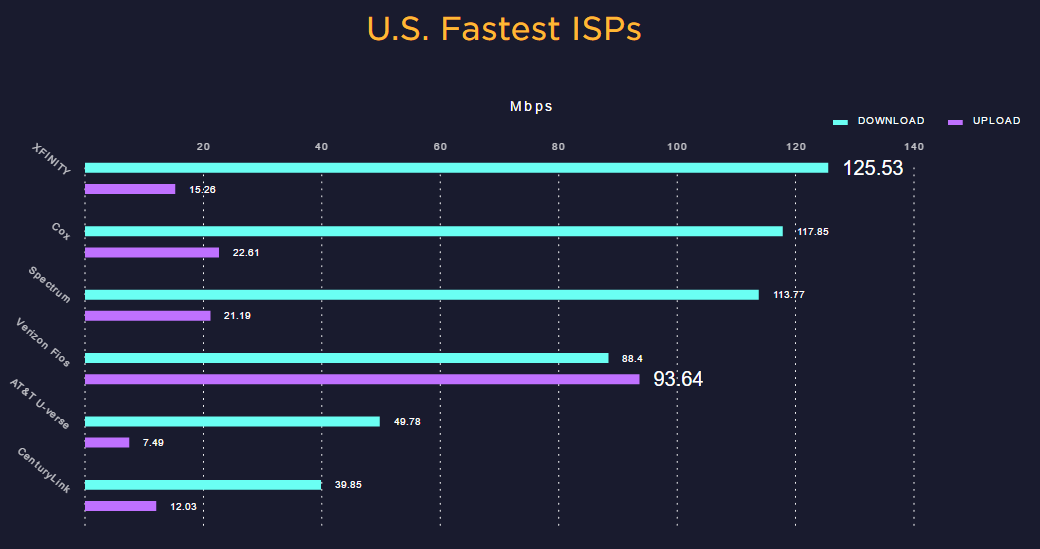 The fastest ISP in the States is XFINITY with an average download speed of 125.53 Mb/s. The company has multiple high-speed internet plans with speeds starting from 105 Mb/s to 250 Mb/s and even as high as 505 Mb/s to 2 Gb/s in some residential areas. It falls behind in the upload speed although. Average upload speed of users of XFINITY's connection is 15.26 Mb/s.
Verizon Fios is the leader in the department of upload speed in the US. With an upload speed of 93.64 Mb/s Verizon users can upload files faster than most of the US netizens download speed. The internet service provider especially emphasizes on upload speed by implementing symmetric links. This helps in almost equal download speed and upload speed.
The average cellular internet speeds have also increased significantly than the last year. The download speed has become faster by 33 per cent and the upload speed got 28 percent speedier. Although in the last six months, the growth of mobile internet speeds has somewhat become stagnant.