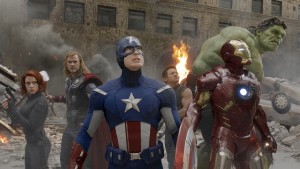 Reports are emerging that the new "Avengers: Infinity War," part one and two, will be the first major motion pictures shot entirely with IMAX and ARRI's brand new, next-generation 2D digital Alexa 65 cameras. In a statement accompanying the announcement, Infinity War directors Joe and Anthony Russo said, "The intent with the Infinity War films is to bring ten years of accumulative storytelling to an incredible climax. We felt that the best way to exploit the scale and scope required to close out the final chapter of these three phases, was to be the first films shot entirely on the IMAX/ARRI Digital camera." Marvel's plans to shoot the films back-to-back over the course of nine months.
IMAX worked with ARRI to achieve the highest level of digital image capture for playback on IMAX's xenon and new laser projection systems. IMAX began rolling out its next-generation laser projection system recently, with more than 71 laser system deals signed globally to date. The joint solution is designed as a complementary tool to IMAX's high-resolution capture technologies, including its 3D digital and 15perf / 65mm film cameras. The Russo brothers are expected to gain experience with the cameras while filming selected action scenes for Captain America: Civil War, scheduled for release in 2016.
In another statement accompanying the news, Greg Foster, Senior Executive Vice President of IMAX Corp. and CEO of IMAX Entertainment, said, "We could not be more excited to deepen our partnership with Joe and Anthony Russo, a pair of filmmakers we believe are next-generation trailblazers. Marvel's Avengers franchise has become a global phenomenon and to have it pay off in this epic way using the IMAX/ARRI digital camera is the very definition of event movie-going." The IMAX 3D release of the films will be digitally re-mastered into the image and sound quality of The IMAX Experience with proprietary IMAX DMR (Digital Re-mastering) technology.
Becoming the first feature films to be completely shot using IMAX cameras in the IMAX-specific aspect ratio could make the films groundbreaking cinematic blockbusters. Marvel's latest installment in the franchise, "Avengers: Age of Ultron," just enjoyed a colossal domestic opening weekend, signaling the public's strong desire for these types of superhero movies. "Avengers: Infinity War – Part 1" is scheduled to reach theaters on May 4, 2018, while "Avengers: Infinity War – Part 2" is scheduled to be released a year later on May 3, 2019.