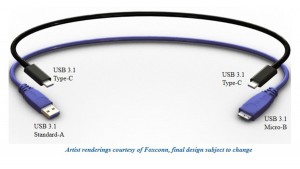 As part of Apple's list of product releases is the USB Type-C also referred to simply as USB-C. Apple just releases a new 12-inch MacBook designed with just one port excluding the headphone jack. What makes this product so unique is the new connector, which is not only different but actually moves away from direct compatibility with literally millions of standard USB devices.
In recent history, the USB-C is the most ubiquitous advances seen. This port is compact, reversible, and capable of doing everything a standard USB does. Although some people had concerns after its rollout, according to Jeff Ravencraft, president and COO of the USB Implementers Forum, the rollout is going exceptionally well.
As stated by Ravencraft, the USB-C goes beyond anyone's wildest imagination for first products hitting the market. The USB-C has already become so popular that a number of manufacturing companies are jumping onboard to include Computex and Asus. Ravencraft goes on to say that in the last 15 years or longer, this is the fastest transition seen.
Although there are a number of key benefits associated with the USB-C, its reversibility is getting the most attention. The degree of difficulty in going back to deal with asymmetrical USB jacks became evident with Apple's Lightning cables. Now, USB-C is the first standard solution for the problem.
However, potential functionality of the connector is also important and convenient. This connector is built on a USB 3.1 spec and compared to a standard USB-A connector, much smaller in size. Even so, the USB-C is capable of producing enough power to charge a laptop computer, has fast enough data speeds for the average user, and is designed with enough bandwidth to carry a display signal.
As a result, an individual can charge a laptop and connect both monitor and peripherals using just one cable that makes the transition from cord-free mobile use to desk work seamless. For proprietary laptop chargers, as well as dedicated ports like Thunderbolt and HDMI, the new USB-C could spell the end.
Just recently, Intel announced that Thunderbolt 3 will adopt the USB-C connector whereby users will enjoy speeds up to 40Gbps while running two 4K displays at 60Hz using just one port. For Apple, this is a huge boost of confidence for the USB-C. As explained by Kirk Skaugen, Senior Vice President with Intel, this new connector is the start of being 100% wireless.
Although the USB-C is proving to be an extremely powerful and essential connector, as with most new products there are still a few wrinkles to iron out. There are also some concerns that in the long-run some niche issues may arise. However, Apple, Intel, and others believe there is plenty of reason to be highly optimistic since a single reversible plug has been way overdue.