Instant Messengers is a trend of the last few years that has taken over the world of virtual communication. That kind of apps are light and easy to run, and it's probably as fast as it gets when it comes to messaging, not to mention the profits that one can make in case that such an app is successfully established at the heart of an enormous crowd of users.
That is predominantly the reason more and more companies are entering the particular market, with one of the latest being the revamped Yahoo! Messenger.
When it initially launched, back in 1998, it was called Yahoo Pager. Today, Yahoo has put a lot of effort to create the first in what the company hopes will be a new breed of apps.
But that raises the question; in what sort of environment will the certain app grow? As mentioned above, it is becoming a crowded market and top places are already dominated by Facebook Messenger and WhatsApp Messenger, so, what will Yahoo Messenger use to fight its way to success?
If you want to be the best, you have to beat the best, and according to numbers, Facebook Messenger is the number one of Instant Messenger Apps right now. So it should be interesting to put both those apps to the test.
Yahoo Messenger
With the radically updated version, you'll definitely be surprised, especially if you had ever used the previous and original version. Once installed, Yahoo Messenger connects with Windows Live Messenger contacts, but you won't get advanced features like audio and video chat.
Furthermore, the company did a great job combining contacts and social updates in a standard narrow buddy window. You can choose a compact or detailed view with buddy images—it's better than AIM 7.3's one-size-fits-all approach, but doesn't afford as much control as Windows Live Messenger.
But, unlike the buddy list of just about every other IM client on earth, Yahoo by default shows all your contacts whether they're online or offline; others hide the latter. Yahoo Messenger lets you sign in as invisible, a nice privacy touch, not available in third-party clients.
What's more interesting, is that Yahoo Messenger has added the ability for users to create plug-ins, which are then hosted and showcased on the Yahoo Plug-in gallery, as Yahoo now no longer provides plugin development SDK.
Not sold yet? Then you may discover one more ace up its sleeve, as Yahoo's new IM can also be operated much like Skype, allowing the user to make calls to cell phones directly.
Facebook Messenger
Facebook's IM has the major advantage of being an app designed by the biggest social network in the world, so that is obviously an excellent start.
Other than that, when you sign up for Messenger with your phone number, you can easily sync your phone's contacts, making that advantage somewhat moot. And what's best, is that you don't have to add new contacts each time someone joins. Facebook will automatically add them to your contacts, so you can always see who's available to message.
Moreover, you can click Payments under Settings to add your debit card. It's a good idea to add Touch ID or a PIN for better security.
To make a payment, write a new message or open an existing one and click the button at bottom right. Click Payments, enter your amount, press Pay, and then enter your PIN or Touch ID, and you're done. The receiver only has to open the conversation and add their card to receive payment.
Another strong upside of FID is the ecosystem that consists of over 50 extra apps that you can install via Facebook Messenger, thus enhancing your messaging experience. For the most part, those are mostly photo and collaging apps.
Which one is the best?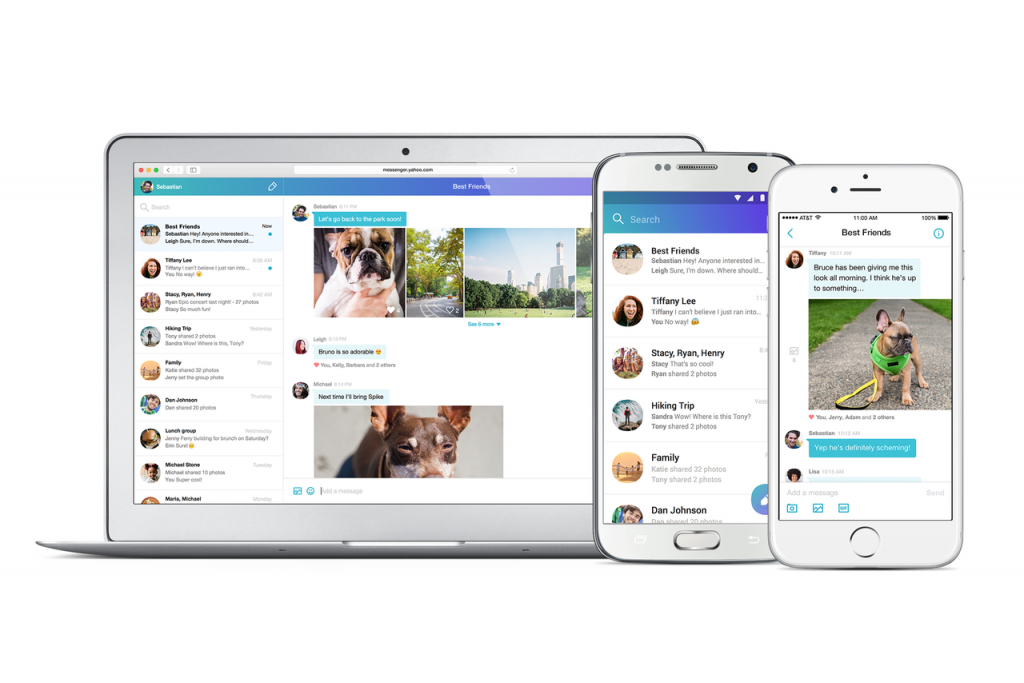 It is crystal clear that both Instant Messenger apps are quite top of the class options and provide the user with a plethora of helpful and fun features.
However, between the two, we have to say that Facebook Messenger remains the top IM, on the grounds that it is backed up by the whole company's ecosystem, giving it the power to have a much bigger impact on the world of internet, along with a wider crowd of users as well.
Yahoo Messenger is outstanding, considering that it's the company's first attempt, but except the Skype-like calling feature, there's not much innovation to compete. Still, perhaps that won't be for a long time.