Phantom Squad, an infamous hacking group, has recently initiated a copycat DDoS attack against Microsoft's Xbox Live service, aping the work of the equally notorious hacking team 'Lizard Squad'.
It all lasted a few hours and the service is now back up and fully functional, but there were some users who reportedly experienced problems logging in overnight.
What's more interesting is that the particular attack had, in a sense, been known for a while, since 'Phantom Squad' had made its intentions clear through its now-suspended Twitter account.
In fact, the hacking team had announced that it would turn against both Xbox Live and PlayStation Network over Christmas and would take over the services for as long as a week.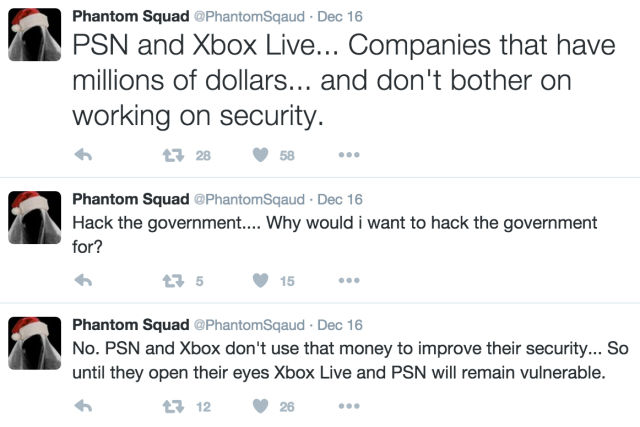 Thankfully, Sony's PlayStation Network remains intact for now and no attacks have been leaked or reported.
In a tweet, 'Phantom Squad' says:
"Why do we take down PSN and Xbox Live? Because cyber security does not exist," and "Some men just want to watch PSN and Xbox Live burn."
"Maybe if you guys didn't talk shit about us, we would not hit Xbox Live this early," reads another tweet.
After bringing the service back up, Microsoft said on its support site concerning the attacks:
""Hey Xbox members, are you having trouble purchasing or managing your subscriptions for Xbox Live? Are you also having an issue with signing into Xbox Live? We are aware of these issues and are working to get it fixed ASAP! Thank you for being patient while we work. We'll post another update when more information becomes available."
Around the same period last year, 'Lizard Squad' also attacked Xbox Live and PlayStation Network resulting in all users having difficulties logging into their accounts on Christmas day. The current DDoS attack by 'Phantom Squad' was obviously inspired by that, though it didn't seem to be quite as successful – thankfully.
For the record, in last year's case, some members of the group were arrested, including a 17-year-old who was convicted of a whopping 50,700 charges and six UK teens were also arrested later in the year for who were reportedly "customers" of Lizard Squad's DDoS service.