WhatsApp has just announced some changes in its terms and privacy policy. In the amendment, the vastly popular instant messenger has decided to share its user database with Facebook. This means that Facebook will now get to know your WhatsApp phone number and use it mainly for targeted advertising.
The messaging application has publicly declared about this recent proceeding in its official blog. In the declaration, WhatsApp tries to make this privacy sharing initiative appear as a benefit to its users. The company claims that various businesses will use the phone numbers only for more personalized customer support functionalities.
WhatsApp New Privacy Policy
The instant messenger application suggests that banks may use your WhatsApp number to contact you if it detects any suspicious activity in your bank account and airline companies may also push important notifications about your flight to your WhatsApp number. However, the company has assured its users that their phone numbers will not be used for marketing or advertisements.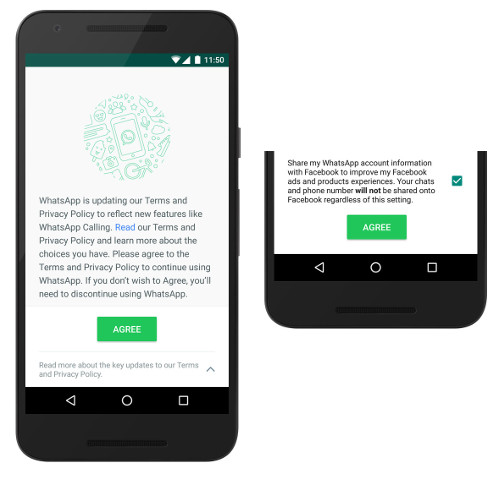 WhatsApp has also clarified that even though it will share your phone number with Facebook, the messages will remain perfectly encrypted. No one, not even WhatsApp or Facebook can get access to your encrypted private messages. The company has also promised that it will never share your phone number on Facebook.
In the blog post, WhatsApp has disclosed that this data sharing will result in enhanced scrutinizing of user activity which will lead to better spam filtering. Facebook will use your WhatsApp data for generating more fine-tuned advertisements. The social media giant hopes to show you much familiar ads rather than displaying some random ones.
How to avoid number sharing?
There are ways through which you can save you WhatsApp number from being shared with Facebook. Basically, there are two paths to do this, and you need to act quick.
The first one needs you to click on the Read more option under the Agree key before accepting the new terms and conditions. WhatsApp will ask each and every user to accept its latest terms before proceeding to share data on Facebook. After tapping on the 'Read more' option, you will get to see a checkbox which you need to untick, and you will be done.
The second method comes to your help if you have already blindly accepted the terms. You need to go to the settings of your WhatsApp application and proceed to Account settings. There you have to uncheck the "Share my account info" to opt out of the plan. You can only do this only until 30 days after you have accepted the terms and conditions.