The photo sharing social network, Snapchat, has rolled out an update today offering a couple of changes to its app, including verifying celebrity users of the service, a feature going by the moniker 'Official Stories'.
After two months, Snapchat has managed to dominate the headlines of the tech world for once again today, with yet another interesting update.
What we knew so far was that the particular update was bringing a marketplace dedicated to lenses -Snapchat's very own filters launched back in September- called Lens Store.
As we reported a few minutes ago, in order to access the Lens Store all the user has to do is swipe pass the free filters line-up, pick up the filter of his choice and then follow the further instructions given thus making the 99-cent purchase.
MUST READ: Snapchat launches 'Lens Store' UPDATE, buy filters for $0.99 a pop
Lens Store is going to be updated every day with a different selection of 30 99-cent filters, with the likes of rainbow puke being sold amid those as well. The feature rolls out in the US, UK, Australia, Brazil and Saudi Arabia today, with a variety of European countries to follow in the near future too.
Furthermore, another change has been incorporated to the app in a more subtle way as well, as Snapchat finally offers verification for VIP users (celebrities).
Originally spotted by ex-The Verge reporter, Sam Sheffer, the social network's indication of a verified account is an emoji being placed right next to their username. Snapchat dubbed this feature as Official Stories.
The image below illustrates the aforementioned.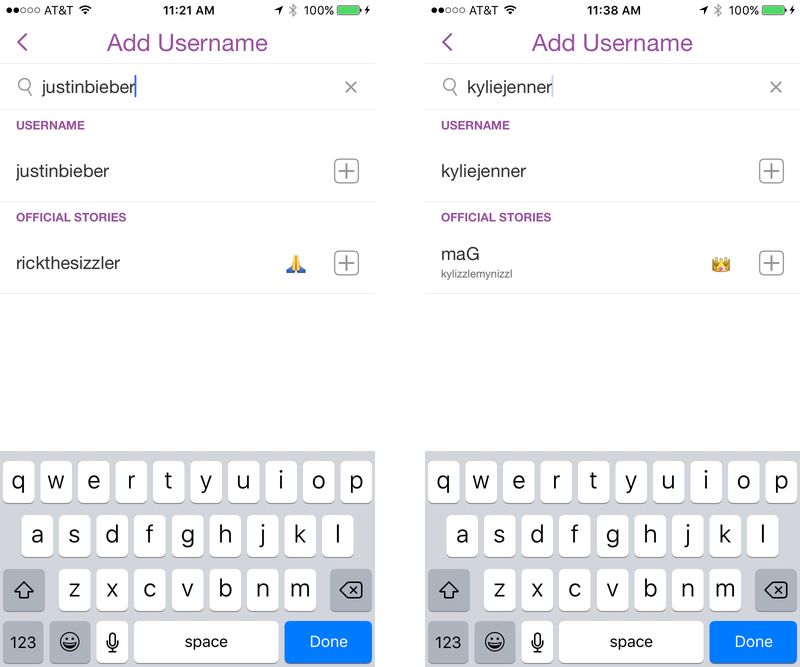 As you have probably figured out, when you type the name of pop-singer Justin Bieber, two usernames pop up. The first one is "justinbieber", which has been already taken by another person, and the second one is "rickthesizzler", the artist's official Snapchat handle, which now displays an emoji right next to it, that way indicating that it is indeed the real deal.
Update: At the time, VIP users that have been granted verifications include Justin Bieber, Tiesto and Kylie Jenner. Snapchat's respective comment says that it is currently working on getting more celebrity users on board with Official Stories.
Via: @samsheffer, Twitter
Source: Snapchat