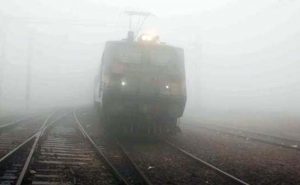 RailYatri is a mobile app and an online portal. Recently, it launched a new function that will allow the travelers to know about the delays caused due to fog in the services.
As per the information from the app and the portal, more than 90 trains travel between Delhi and Patna. These trains were delayed by the fog in last week and this situation was tracked exactly by RailYatri and was reported to travelers.
The new function, also known as 'Fog Alert' informs the travelers about the severity of fog, fog probability along the route, and its estimated effect on the train schedule. The feature will make it possible for the users to keep their loved ones informed about the delays and plan their trip better.
The new 'Fog Alert' feature also alerts and allows the users to check the probability of delay at a particular spot. For instance, if you are traveling to Delhi from Maharashtra, and there is a high chance of you getting delayed at Punjab due to fog, then the new feature will let you know this in advance.
"We rolled out the new 'Fog Alert' to assist the users in managing their journey and trip in a more systematic way. We presume that technology used in mobile when coupled with other data and information can lead to a happy experience of travel and journey without any chaos", mentioned co-founder and CEO of RailYatri, Manish Rathi.
Well friends, the new 'Fog Alert' has indeed been a great feature for us.