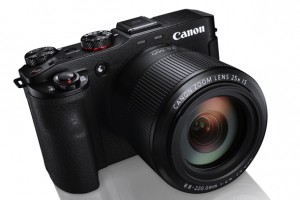 Several months ago, Canon hinted that a new super zoom premium camera would be coming. While some photographers questioned whether this promise would come to fruition, Canon just announced that the PowerShot G3 X will in fact be released next month.
What makes this camera unique is the design. The PowerShot G3 X is designed with every major feature found in other cameras required for proper operation but it also boasts a few new and innovative features that make it a clear standout against other G-series cameras.
The cost will run consumers around $999, taxes not included. As stated, this is a super zoom camera that boasts a one-inch sensor, which is the same used in the G3X with touch LCD screen and G7X. This sensor has a solid reputation for creating images of incredible quality. Because the lens of the PowerShot G3 X is larger, the camera itself is somewhat bigger than the G7X yet sill comfortable to hold and operate.
The power zoom lens of this new Canon camera equals 2.8-5.6/24-600mm f. The goal in developing this particular product was to create a camera that had a lens with unrivaled reach. With such high competition among camera designers, the PowerShot is the perfect choice for photographers who want unique style features. Some of these included in the design include dust resistance, water resistance, compact size, and large ISO range between 125 and 12,800.
For achieving high performance specific to point and shoot capability, the PowerShot G3 X is being slated as one of the best. This camera is designed to capture both sill images and videos in unbelievable detail regardless of lighting condition.
In a statement from the president and COO of Canon, the PowerShot G3 X is a remarkable digital camera designed to produce superior high-definition video. This camera also has state-of-the-art features, making it ideal for novice and professional photographers alike. He added that while the camera is compact in size, which makes it more manageable, it is also very powerful.
Another popular feature of this camera is the Intelligent Image Stabilizer system. With this, shake-free images will not be captured whenever multiple photos are taken at the same time. However, the zoom is what has photographs talking. Even though the range is not quite as good to other cameras in the same price range, it allows a photographer to get in close to the target only when surrounded by bright light.
Although the PowerShot G3 X does not have an electric viewfinder, this is ranked as being a solid choice with wonderful features capable of producing professional quality images.