CHICAGO, IL- Motorola Inc. (NASDAQ: MSI) The Lenovo-owned company has issued invites for its Droid Turbo 2 and Droid Maxx handsets launch event, set for October 27th.
Motorola has been dominating the smartphone rumor mill, as predictions for the release date of the Droid Turbo 2 and Droid Maxx 2 handsets can be found in all major technology blogs.
Today, the company finally sheds some light onto the mystery, as it has issued invitations for an October 27th event- which is nine days from today. The card does not divulge any specific info, such as the devices model; it only mentions the Droid tag, which is the name of Motorola's premier phone line-up. The event will be held in New York City at 11 a.m.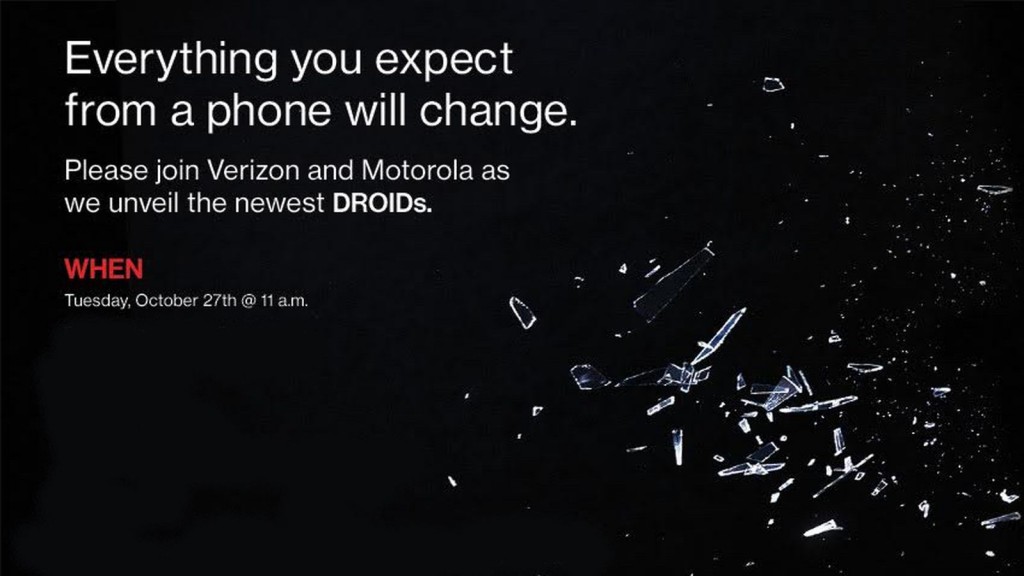 Info currently available suggests that the Droid Turbo, Motorola's flagship smartphone, will be packing a 5.43-inch QHD display (which is 0.23 inches larger than the original Turbo), a Snapdragon 810 SoC (MSM8994) accompanied by 3GB of RAM, and two storage options;  32GB and 64GB. Camera wise, the primary camera, located on the back, is said to shoot at 21-megapixels, while the secondary, located on the front, will be a 5-megapixel one.
To accommodate the brilliant -yet rumored- 5.43-inch QHD display, Motorolla will be reportedly including a 3760mAh battery, which sounds fair enough for the particular spec sheet.
The Droid 2 Turbo will ostensibly be compatible with the company's Moto Maker. In case you are not familiar, Moto Maker is a service that allows customers to customize the body of their devices (engrave a word on it etc.), as well as pick their own combination of colors -before purchasing the device of course.
When it comes to the mid-range Droid Maxx 2, not much has been disclosed so far. Though, it was mentioned in the description of Moto Email, a standalone email client that the company released a few days back, exclusively for its devices. In addition to that, the device was briefly included in the Chromecast support page as well.
What are your expectations for the upcoming Motorola smartphones? Feel free to let us know in the comments below.
Via: Gadgets.NDTV
Source: The Verge
Featured image credit: CNET