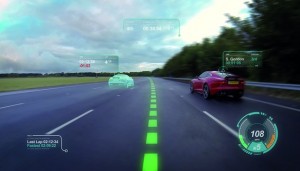 There are some big changes in the works for the Jaguar Land Rover and other company vehicles involving advanced technologies. Currently, researchers are working on safety features that would ultimately make roads safer by using brain wave monitoring to prevent a driver from becoming distracted.
Jaguar recently announced Mind Sense, a unique program designed to monitor a driver's brain waves that would help with focus on the road. With this technology, the steering wheel would be designed with special sensors that scan brain waves to determine if the driver is distracted or tired. If the technology determines the driver is not focusing, a tactile or audiovisual warning, or both would be activated.
Distracted driving is something that other automakers have tried to battle for years using a variety of active safety systems. However, Jaguar's Mind Sense is the first program whereby brain wave scans would be used.
Currently, Attention Assist is offered by Mercedes-Benz for monitoring outside conditions along with driving characteristics to determine if an individual is distracted. In addition, the Driver Attention Monitoring system is employed by Lexus, which consists of small cameras that detect a driver looking away from the road or closing the eyes.
Throughout the world, distracted driving has become a very serious issue. According to a report from the US Department of Transportation along with the National Highway Traffic Safety Administration, just in the United States in 2013, 3,154 people lost their lives and another 424,000 sustained injury involving accidents involving a distracted driver.
Without question, Mind Sense is an amazing technology but whether Jaguar actually implements it remains to be seen. However, the company has a number of other technological projects in the works such as a Wellness Seat that can monitor a driver's breathing patterns and heartbeat.
Currently being tested, this technology determines if a driver has adequate control over a vehicle's operations. Other features of the Wellness Seat are designed to reduce a driver's stress by automatically adjusting the automobile's lighting and temperature.
A predictive touch screen is also being developed by Jaguar. With this, the program can determine which button a driver will press, thereby eliminating the need to look away from the road. There are also haptic pedals that provide a driver with tactile feedback whenever driving speeds are too slow or fast.
According to an insider with Jaguar, the company anticipates being able to monitor a driver's state of alertness and wellbeing by 2020. Just this week, new prototype systems referred to as WIRED were unveiled showing how the Land Rover can be remotely controlled via a smartphone or tablet.
However, as stated by a company spokesperson, even with advanced technology for automated driving, the driver's focus will always be most important. Critics feel that Jaguar reaches too far without delivering while supporters strongly believe all technological advances under development have potential to save lives and prevent people from being seriously injured.