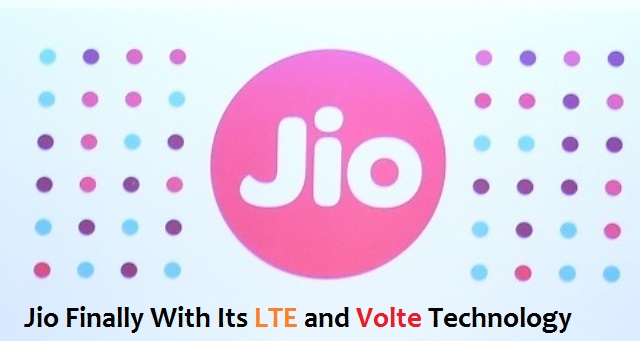 Reliance once again shaking up the market with the announcement of their 4G service named as "JIO". However, Jio had its identity since 2007 which wasn't disclosed publically .The Brand was owned by the Infotel Broadband Services Limited which is a daughter company of Reliance Industries Limited.
The services were beta-launched to Jio's partners and employees on 27 December, 2015 .and after the positive tested response, Reliance Jio was commercially launched on 5th September 2016.With a grand and royal launching ceremony.
Now if we talk about the 4G and Jio Technology they are not similar on technological viewpoint, 4G is based by LTE network which in detail known as Long-Term Evolution. Technically what LTE network does is, It allows only data to pass through the 4G band ,while the call are pushed through 2G/3G band. In simple word it is competent only for data transmission. So just to avoid such bifurcation of data and calls VoLTE network has been introduced. VoLTE stands for Voice over LTE and is a new protocol for transmitting voice data over the LTE network.
Read also >> Apple iPhone 8 release date in 2017 hints Iris Scanner
 Reliance Jio's network is purely LTE, and does not have any 2G and 3G bands and as such, calls made on this network will only be VoLTE based. On a VoLTE network, voice calls are divided up into packets of information, sent over the full data pipeline and then reconstructed at the receiver's end. VoLTE is a compartment of the LTE technology. As a result, voice information can be transmitted over a higher bandwidth pipe, resulting in better call quality. In order to use this feature, consumers should have handset which is VoLTE enabled. VoLTE comes with vital feature named as HD calling, but there are some limitations before using it. It has a condition that, the call will be HD call only if the users are engaged on call using Reliance Jio Network. However, HD calls are only originated and terminated on VoLTE handset.
Mr.Mukesh Ambani also introduced eye-catching schemes and offers which included Reliance's free voice calls, cheap data for a period of three months .In his speech he also stated that "Jio will give the "power of data" to each Indian to fulfill every dream and to collectively take India to Global Digital Leadership".