Do you want to use screen recording to capture high quality videos from your screen? To be completely honest it isn't that difficult to make sure the quality of screen recording videos is excellent – provided you know what factors to take into account.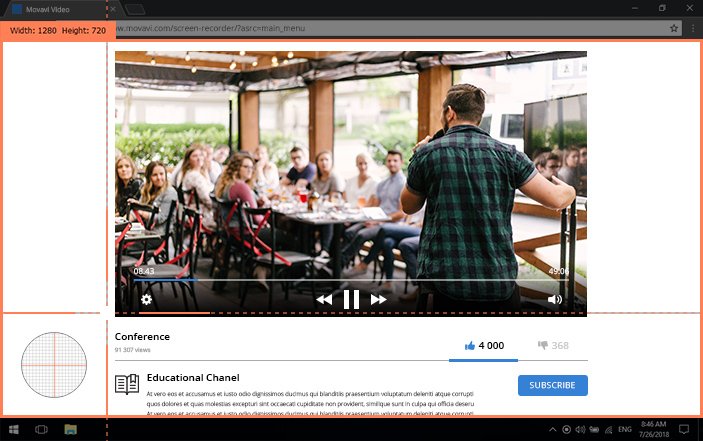 If you'd like to start recording truly high quality videos using screen recording, there are a few steps that you should take:
Set the resolution as high as possible
At higher resolutions your video will look clearer and it will have better definition. However in screen recording you cannot exceed the resolution of your display, which does put a limit on it.
Essentially the best option is to record at the full screen resolution of your display – which should ideally be at least 1080p Full HD. Try to maximize any program windows that you're recording, and make full use of the available display area.
Increase the frame rate to 60 frames per second
Although 30 is a decent frame rate, if you want your video quality to really look good you should try to increase it to 60. The difference is remarkable, and a video at 60 frames per second will be much smoother and more fluid.
Just be aware that recording at higher framerates requires more system resources, and it could tax your computer.
Exit unnecessary programs and background apps
Any unnecessary programs and background apps should be closed so that they don't interfere with the recording. Taking this step will help you free up system resources and should help ensure the recording is as smooth as possible. On top of that you'll also avoid any unwanted notifications or sounds being triggered by a program running in the background.
Don't forget the audio quality
Many screen recording videos are accompanied by a voiceover recorded via a microphone, and if you're recording one you need to focus on the audio quality as well. Try to limit the background noise, adjust the volume level, and make sure the audio sounds as crisp and clear as possible.
If you want your audio quality to be good, you will need a decent microphone – otherwise its frequency response range may not be ideal. Of course if you aren't recording a voiceover and are just capturing the system audio you needn't worry about any of this.
That should cover everything you need to know to record high quality videos from your screen. As you may have noticed it is important that the software you use allows you to adjust the recording parameters according to your needs, and if you want a good Camtasia alternative you can try Movavi Screen Capture Studio for example.
After you're done recording just be sure that you save your video with the right encoding settings – especially when it comes to the resolution, frame rate and bitrate. The last thing that you want to do is record a high quality video but encode it with the wrong settings and end up ruining it in the process.