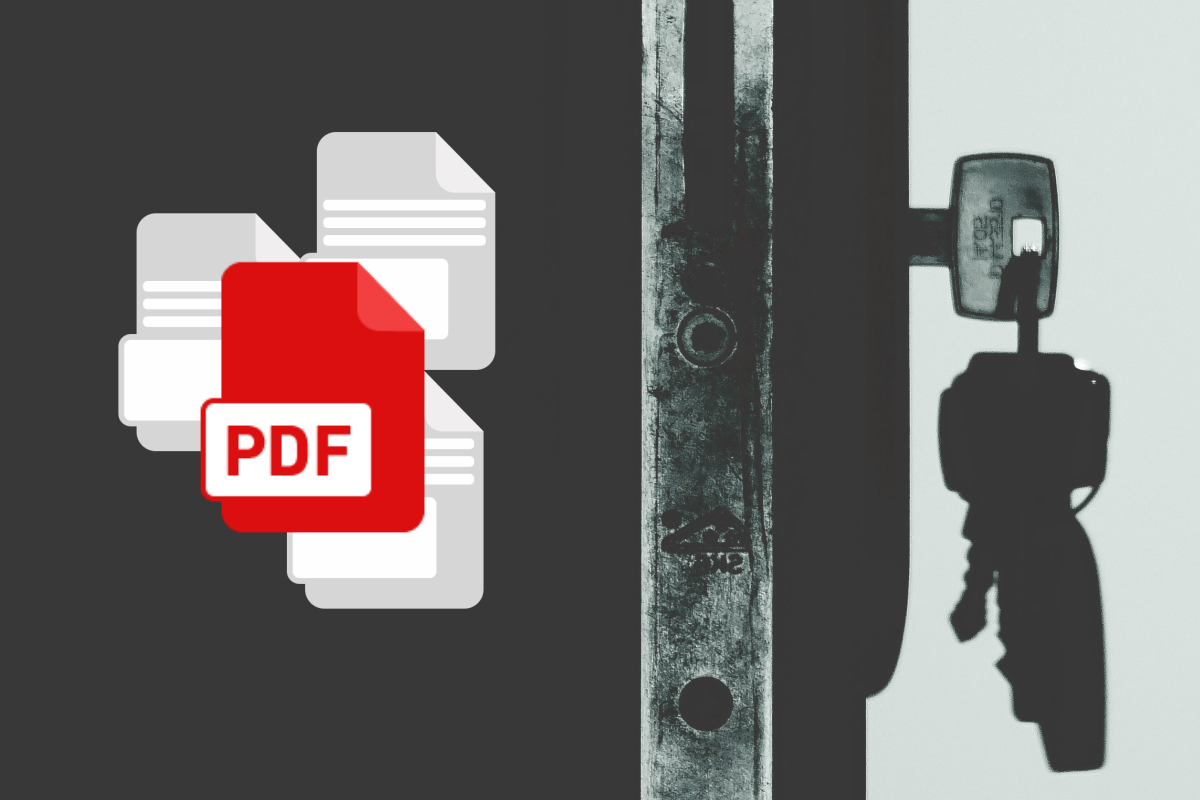 Even though Microsoft Office programs (and similar paid or free alternatives) are being heavily used in a business environment for creating various electronic documents, they're not the top choice for office archiving, document sharing or collaborating.
Why is that?
Well, one of the reasons is that Word and Excel native formats can't be opened without a specific computer program. The second reason is the formats' editable nature–often times you don't want finished business reports and presentations to be tampered with in any way. But the most important reason is the fact that you have little control over document security and permissions.
All of these reasons have made the PDF format an obvious choice for all tasks professionals need to accomplish that involve electronic documents. For example, PDF/a ISO standard files follow strict requirements that ensure PDFs are usable even after a long time. And if you use Microsoft Office programs for document creation, it's important to know about that Save as PDF option in Word, PowerPoint, Excel, and Publisher is compliant with this standard.
However, in order to secure the sensitive data those documents contain you need a professional software tool for dealing with PDFs. Able2Extract Professional 12 can encrypt PDFs, create secure PDFs from almost any printable file format, and manage user permissions to the fullest extent. On top of that, Able2Extract has the ability to watermark files and redact PDF text for even more control over your files. Furthermore, its annotations feature can enable teams to seamlessly collaborate on document dependent projects.
Let's explore these features in greater depth together. Follow along to learn how to take advantage of the possibilities Able2Extract offers up to its users security-wise.
Create Secure PDF
If you have already printed your document as a PDF, the option you can use to secure your file is called Encrypt Document.
To access this feature, Open the document and enter Edit mode as explained in the following screenshot.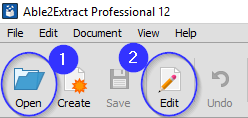 Next, click Edit menu and select the Encrypt Document… option.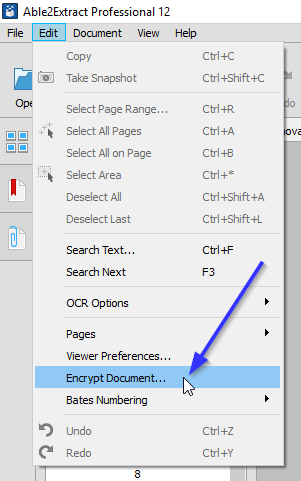 In the Encrypt Document window you have to enter two passwords:
User password: This password is for sharing the document. All the permissions you select below in the passwords section will apply when the PDF is opened via the user password you specify.
Owner password: This password acts like an Administrator key. Once the document is opened with this password, all the permission settings are overridden and you, as owner, have full control over the PDF.


The Permissions you can allow and disallow for users receiving the file are as follows:

Printing
Copying Content
Modifying Document
Adding Comments
Low-resolution Printing Only
Copying Content for Accessibility
Filling in Forms
Assembling Document

If you have a document in any other printable file format and want to create secure PDF file, go to the View menu, select PDF Creation Options… and under the Security tab check the Secure PDF box. As explained before, you can then enter passwords and set up your document permissions.

You can even save your settings as default or save the template for later use.
When you are done click on OK and from the Command toolbar select Create. Browse for the document on the available computer drives and click on Create. Able2Extract will automatically create secure PDF documents with the passwords and permissions you previously selected.
Watermark PDF
If you would like to secure your PDF from appearing offline and online without giving you a proper credit for creating it, go for the Watermark feature under Annotation options.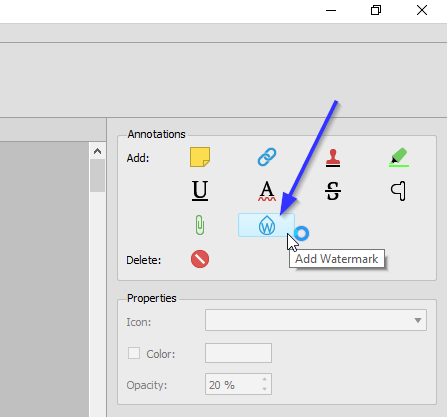 You can access the Watermark feature in the Annotations panel on the right as soon as you start Able2Extract.
Open the document, click the Add Watermark icon, and type in your watermark text or select an image for your personal watermark. You can also use the Save and Load Template features to save you time and keep things consistent when watermarking multiple documents.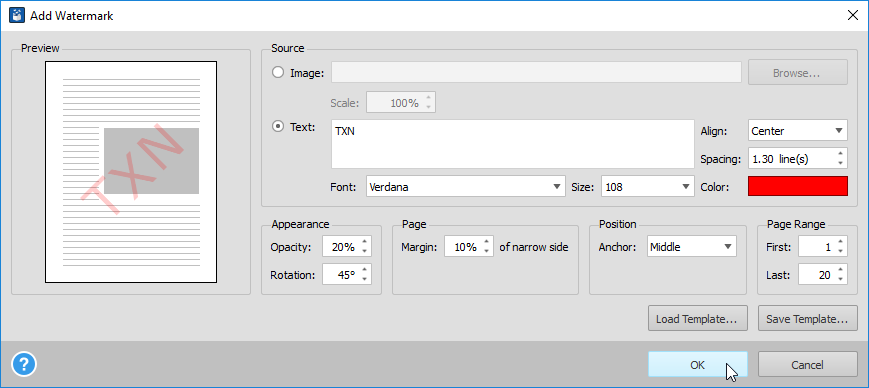 Note that there are also 9 additional annotation options for smooth document collaboration.
Redact PDF Text
When you want to share your document, but don't want recipients to see sensitive business data, use the Redaction feature.
Once you open the document, look for the Redaction icon in the Content panel on the right. To redact text, click on the icon and draw a rectangle over text you'd like to redact. Lastly, Save your file which will then be ready for sharing with all the sensitive information blacked out.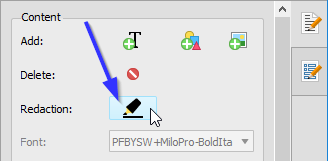 You can buy an Able2Extract Professional 12 lifetime license or opt for a 30-day option, but, in order for you to make the best decision, we suggest you first download the software for free here and try out all the above features for 7 days.