Wednesday, at Apple's Event, we saw Apple reaching into a completely new market. With the launch of the iPad Pro they surprised users who love using a tablet as an input device for their professional needs.
With a 12.9-inch screen and an amazing processor it is really a marvelous gadget, but it sure has some strong competition behind it's back. Of course we're talking about two technological giants, Microsoft with the Surface Pro and Samsung with the Galaxy Note Pro.
Hardware and Design
Apple's iPad Pro is made of aluminium, it's 1.57 lbs (0.73 kg) heavy, thick just 6.9 mm and comes in three colours; Space Gray, Silver and Gold.
Surface Pro 3 has a body made of magnesium alloy giving a gray matted finish to the back of the device, weights 1.76 lbs (0.79 kg) and is 9.14 mm thick.
Galaxy Note Pro has a plastic body that weighs 1.66 lbs (0.75 kg), it's 8 mm thick and comes in black and white.

We have to give this one to Apple. Best build, most colour options and the iPad Pro is the thinnest of three.
Display
Apple's iPad Pro has a 12.9-inch Retina display, a resolution of 2732 x 2048 and a pixel density of 264 pixels per inch.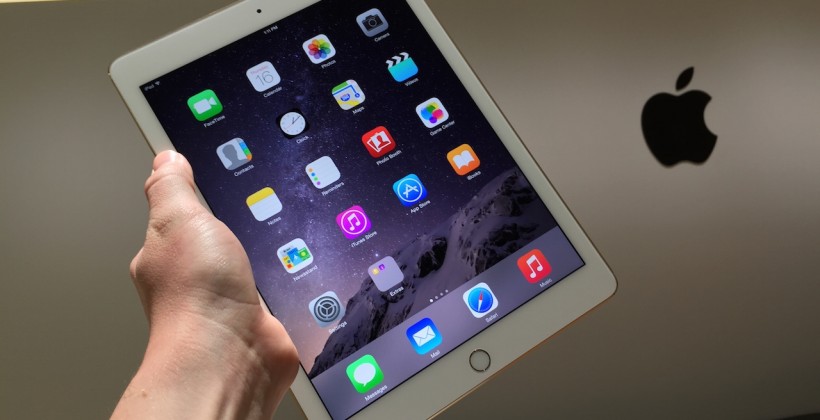 Microsoft's Surface Pro is running a 12.0-inch ClearType display with a resolution of 2160 x 1440- that's 216 ppi.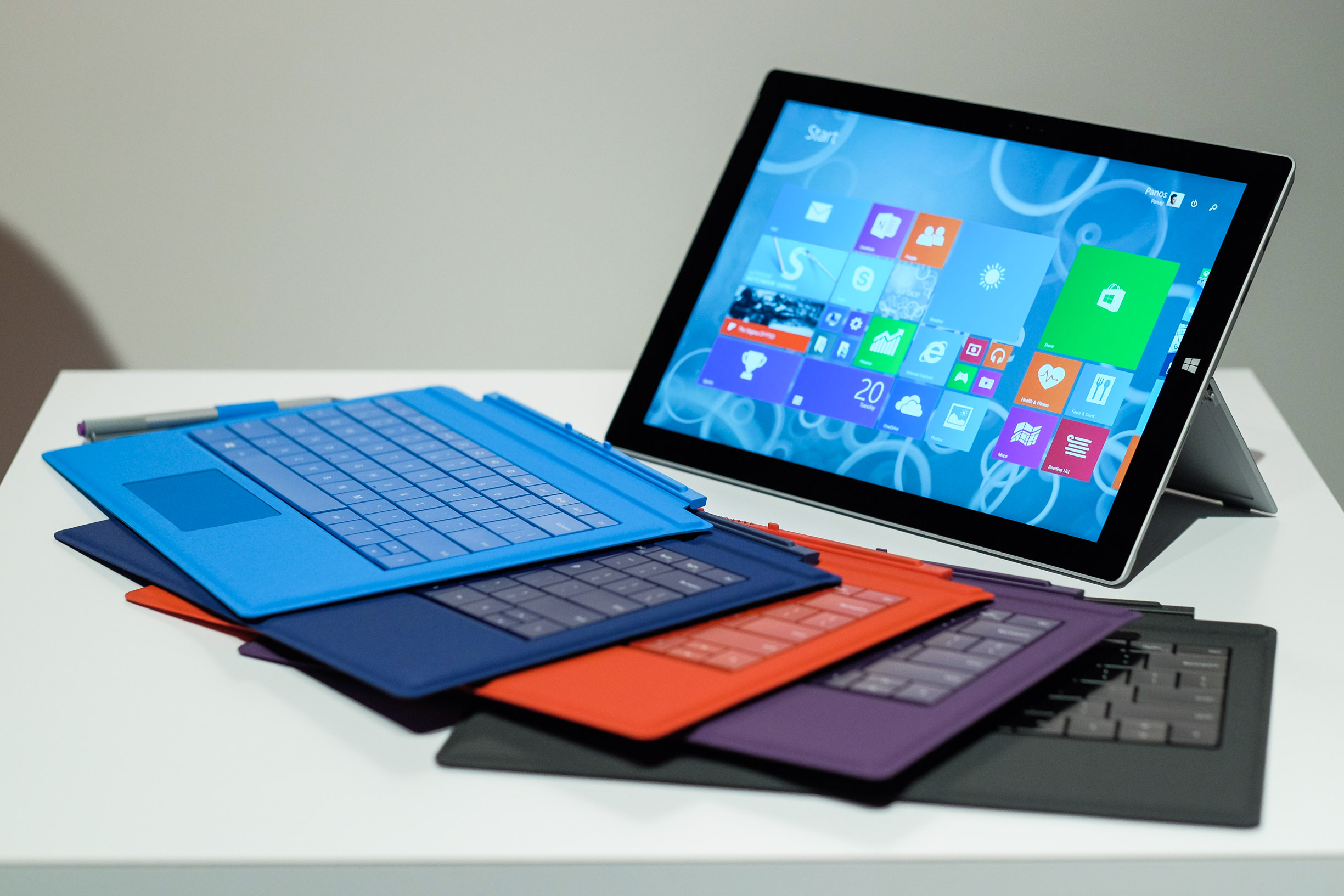 Samsung's Galaxy Note Pro sports a 12.2-inch screen with a resolution up to 2560 x 1600, 247 ppi.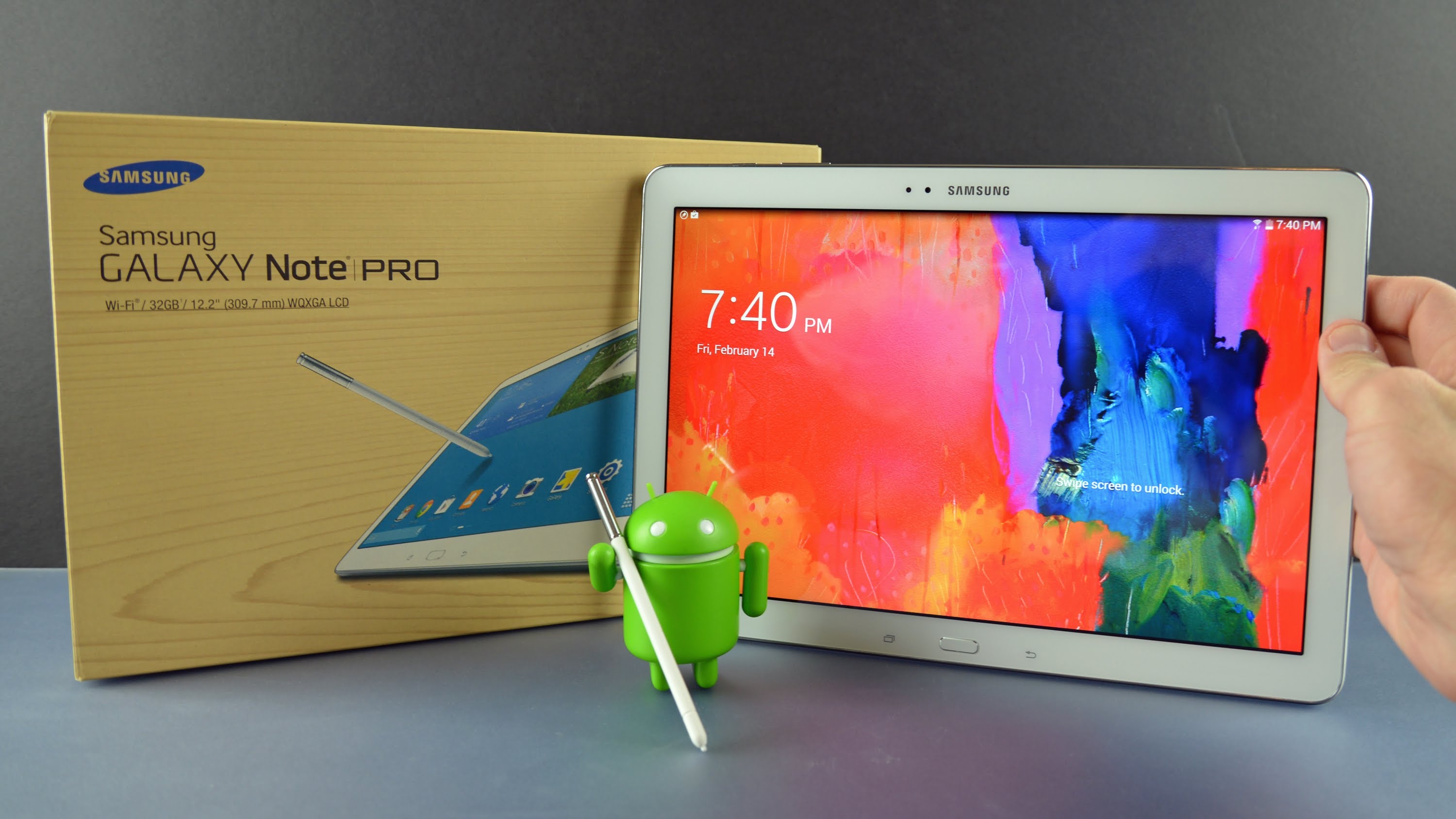 Apple certainly takes this one as the Pro features the biggest screen with higher pixel density, better colour reproduction and sharper viewing angles .
Performance and Pricing
Apple's iPad Pro has a 64-bit A9X chip under the hood giving it all the power it needs and even more. It comes in Wi-Fi only models and in Wi-Fi + Cellular. The 32GB Wi-Fi only model will cost you $799 and the 128GB Wi-Fi only model will run you $949. There's only one option for the Wi-Fi + Cellular and that's the 128GB which will impact your wallet for $1079.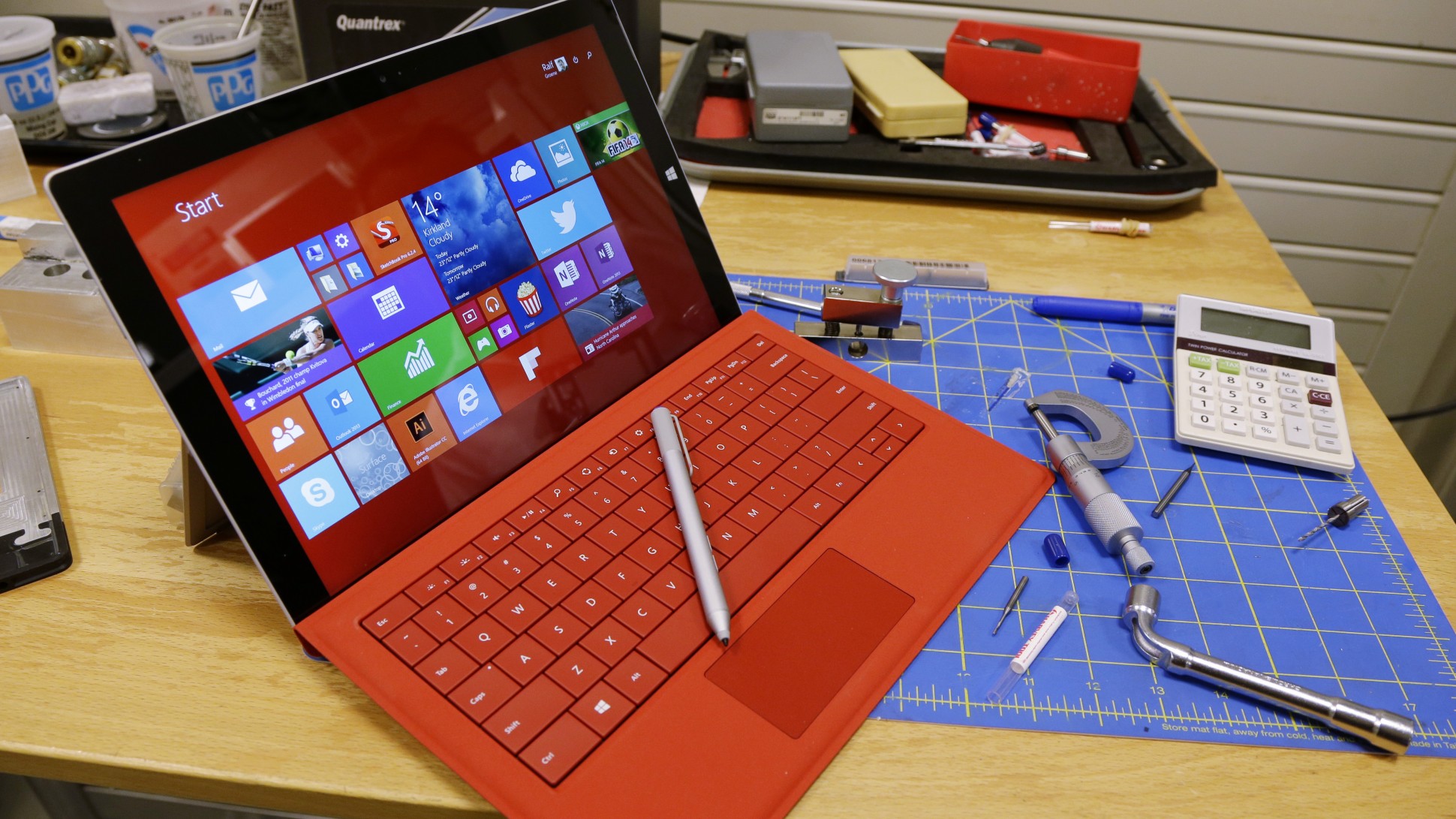 Surface Pro is definitely the hardest one to choose a variant from. The tablet is offered with an i3, i5 and i7 processors supplied by Intel. It Comes with 4GB or 8GB sets of RAM and 64GB, 128GB, 256GB and 512GB storage options- which, by the way, are expandable via a microSD card. These are all the configurations with their prices next to them:
Intel Core i3 running at 1.5GHz with 4GB of RAM and 64GB of storage – $799
Intel Core i5 running at 1.9GHz with 4GB of RAM and 128GB of storage – $899
Intel Core i5 clocking at 1.9GHz with 8GB of RAM and 256GB of storage – $1149
Intel Core i7 runnning at  1.7GHz with 8GB of RAM and 256GB of storage – $1399
Intel Core i7 runnning at  1.7GHz with 8GB of RAM and 512GB of storage – $1799
We have to admit that it is a real shame that the Surface Pro 3 doesn't come with any cellular support.
Samsung's Galaxy Note Pro has an octa-core processor inside clocking in at 1.9GHz, 3 gigs of RAM and comes in two variants, 32GB and 64GB, both expandable via microSD card up to 64GB. It will set you back $649 for the 32GB and $749 for the 64GB model. It also has cellular connectivity.
Microsoft takes the round. Despite not supporting LTE, it offers a wider variety of options and it's the most powerful tablet of the three.
Camera
Apple's iPad Pro has an 8MP iSight camera embed on the back, shooting 1080p at 30 FPS and 720p at 120FPS. On the front of the device is a Facetime 1.2MP camera which shoots 720p video.
The Redmond giant's Surface Pro 3 sports a 5MP camera that allows 1080p video on the front and on the back.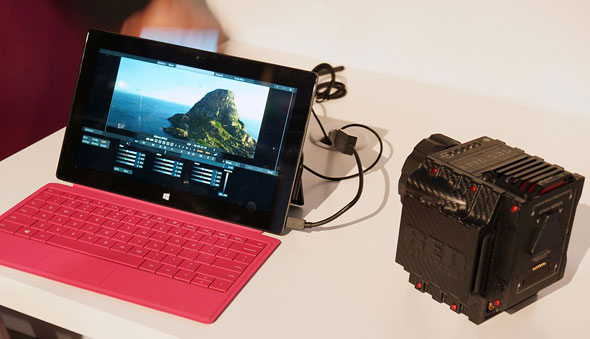 Samsung's Galaxy Note Pro rocks a 8 MP camera on the back, supporting 1080p video at 30FPs. Front camera is a 2MP shooter, also capturing 1080p video.
Close battle between all three. We are not going to decide on this one, but if we had to… it's Microsoft. Most of us are using the front facing cameras on tablets,  mainly for video chatting, and the Surface Pro 3 just has the best one.
Battery
According to Apple, the iPad Pro will last up to 10 hours. Information about capacity has not been released yet.
The Surface Pro 3 has the juice to last you up to 9 hours, claims Microsoft. Many reviews on the internet stated this is just not true. The battery capacity was never revealed by Microsoft, but a little internet search will show you that the capacity is around 3500 mAh.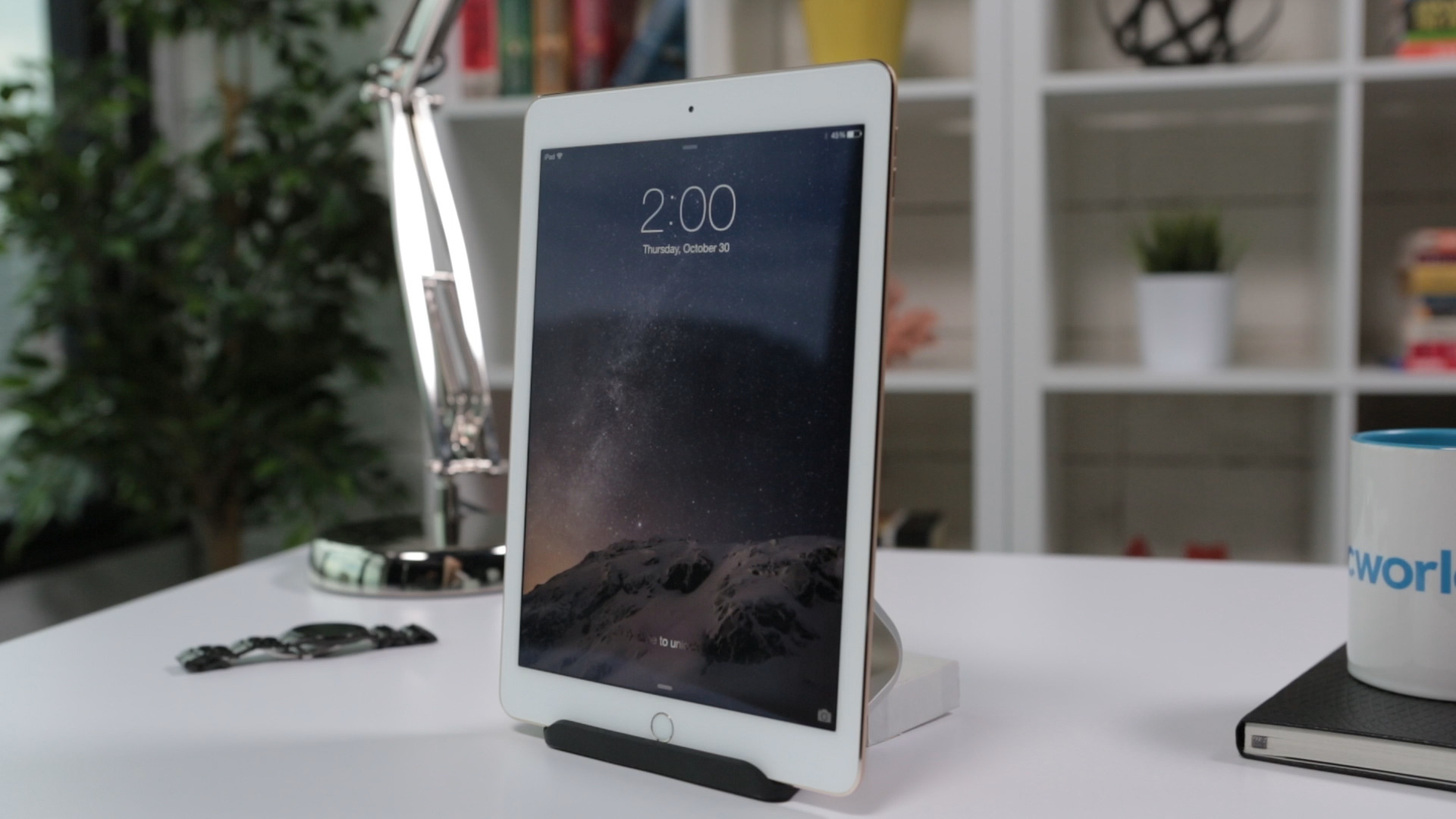 Samsung's Galaxy Note Pro has a battery that can last for 10.5 hours and the capacity is a whooping 9500 mAh.
Hence, the logic inference here is that the Galaxy Note Pro wins.
Software
The iPad Pro will run Apple's latest and greatest, iOS 9. Features that will really shine on the new tablet are Slide Over, Split View, and Picture in Picture.
Slide Over adds the functionality of opening a second app without leaving the one you're in via a window on the side of the screen.
Split View goes a step further and has two apps open and active at the same time.
Picture in Picture makes a little window on top of other apps.
Surface Pro 3 comes with a copy of Windows. There is not much to tell here. Windows on the Surface Pro 3 comes with all the features that desktop version comes with, thus anything that you can do on your PC can be executed on the Surface Pro tablet as well.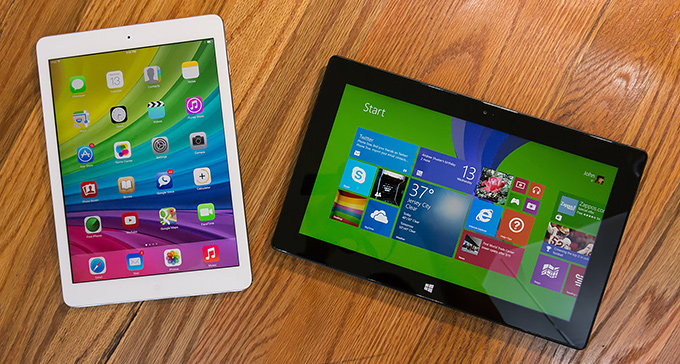 Galaxy Note Pro comes with Android 4.4 (KitKat), but is upgradable to 5.0.2 (Lollipop). Android is wearing Samsung's TouchWiz skin on top of it, which gives some cool features to the device like enhanced multitasking that allows you to use four different applications side-by-side. Though it has been often reported that Samsung's UI causes a lot of bloatware that essentially drains the battery life and reduces performance.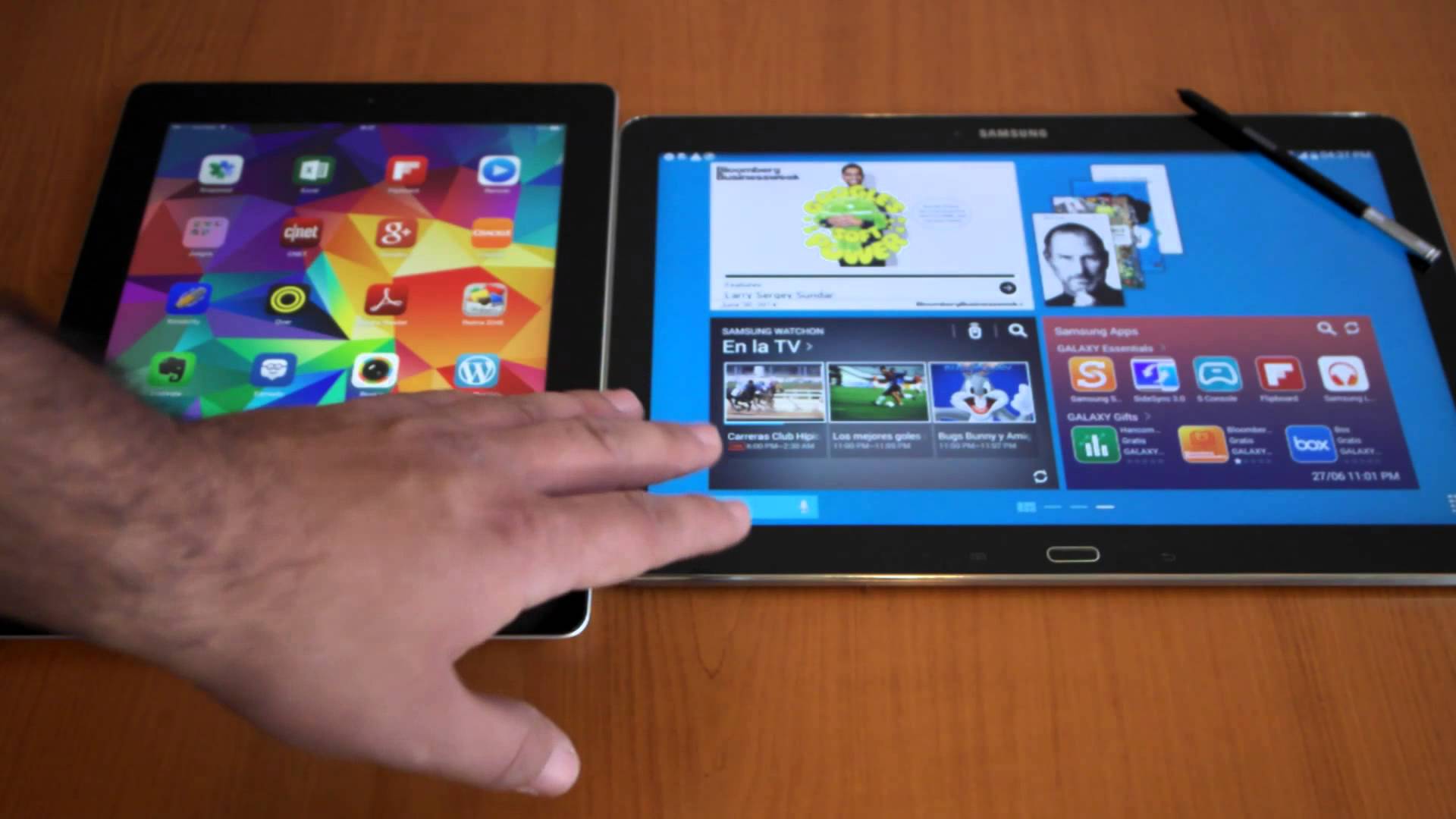 In that case, we would suggest you to opt for a stock Android wallpaper app, like KKLauncher, which totally revamps the UI and makes it more user-friendly.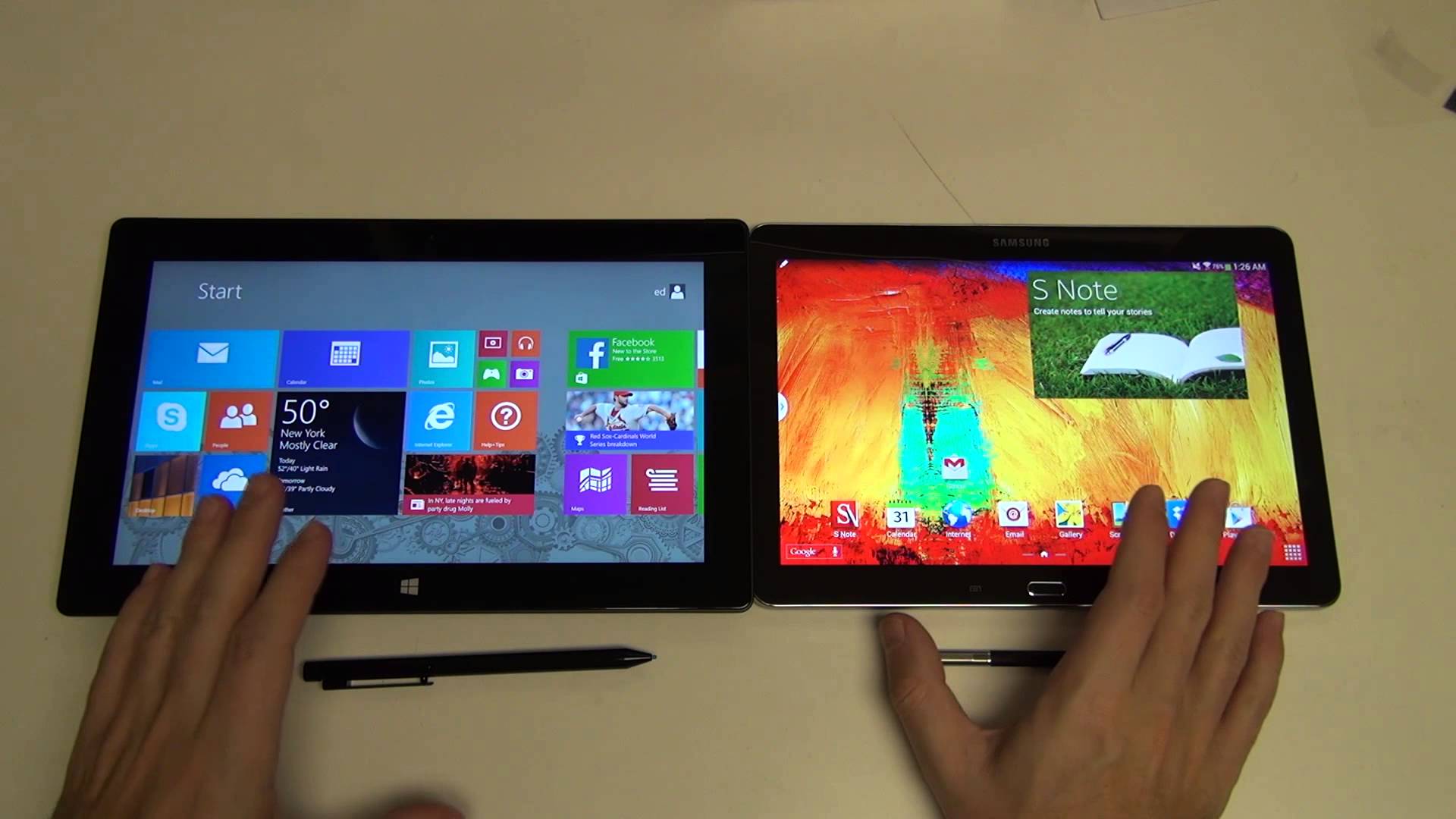 Preference wins this one- it's up to you to decide which piece of software suits best your needs and likes.
Accessories
The iPad Pro will work with the Apple Pencil stylus. This $100 device will make the subsystem on the iPad Pro change mode to scan its signal at an astounding 240 times per second – that's twice the data points it normally collects with your finger.
It's also pressure sensitive, so when you apply more pressure, the drawing you are doing becomes thicker and for the first time on a tablet, you can shade your drawings. It has a Lightning connector, so when it loses charge, you just pop the ending off and stick it in your iPad Pro.
There is also a $169 keyboard called the Smart Keyboard which Connects to the iPad Pro via the new Smart connector located on the side of the device. It's a keyboard cover, so not much to tell here.

The Surface Pro 3 comes with the Surface Pen which will allow users to input more precisely. It has Palm Block technology and multi-point sensitivity, which should in theory allow you to write naturally. The pen also features buttons which will bring you the right-click and eraser capabilities. The button on the top will bring you to OneNote so you write your ideas more quickly.
Microsoft offers a Type Cover keyboard for $129.

Galaxy Note Pro offers an S Pen which is not currently available for purchase anywhere, but has a keyboard cover which will run you $149.

The Verdict
Picking one out of these three can be a tough decision to make because there are just so many major differences between them, despite all being considered as tablets for professional use.
All in all, if you wish to bring the power and accessibility that you have on your PC to your tablet, then Microsoft's Surface Pro 3 should be your choice, as it is powered by Windows 10 desktop edition.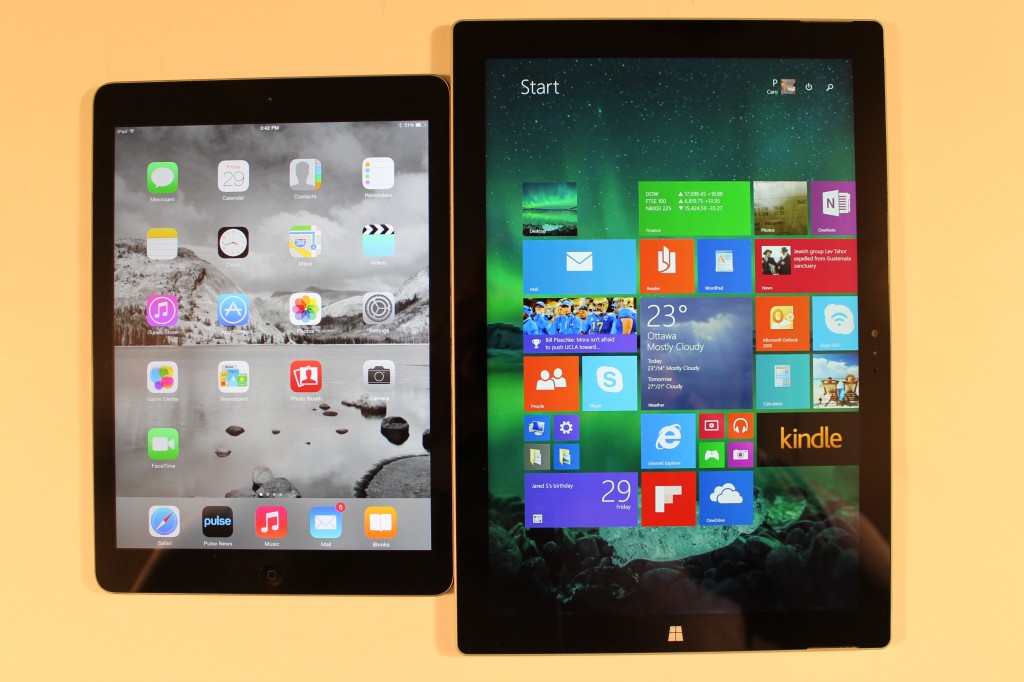 If you enjoy things to be simple and your gadget arsenal is tied to Apple's ecosystem, then look no further than the iPad Pro.
And finally, if having a battery that can last longer than any other tablet out there, then Samsung's Note Pro is the right place to go.