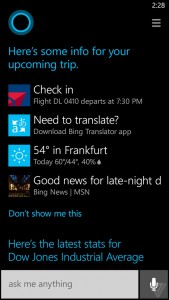 This week, Microsoft is on a roll. In addition to announcing the Xbox One with 1TB of storage space and wireless controls, the company is offering Cortana for tracking and managing all phases of flight travel. Currently, voice assistant Siri offered by rival Apple is becoming more intelligent in iOS 9 so Microsoft is stepping up its game with Cortana.
Cortana is also a voice assistance program but in addition to the more traditional services, it can track air travel seamlessly. As noted in a Microsoft blog post, there are actually several unique ways in which Cortana can assist with virtually all phases of a trip.
For example, Cortana has the ability to check flight-related emails, monitor driving traffic to the airport, determine the cost of overseas travel, and much more. Thanks to an update in software, all of the new improvements are possible.
Currently available on Windows phone 8.1, Microsoft has great predictions for Cortana. For one thing, this voice assistance program will be offered on all Windows 10 devices to include personal computers, phones, and tablets starting next month. However, Cortana will also debut later this year on iOS devices and this month, on Android phones. Once all the launches take place, Cortana will become an even bigger threat to Apple's Siri and Google's Now.
Although Cortana offers a number of exceptional features, one of its strongest suits is the ability to provide reminders for various events to include calendar appointments without being told. Siri offers a feature that is very similar and because of this, Microsoft recognizes that Cortana must continually be updated in order to remain relevant.
While Cortana has always tracked flights, this voice assistance program now does much more. Once a trip is planned, this application will document everything in Notebook, which is a small window that keeps people informed of new developments for a specific task. Based on design, an individual's itinerary, along with other activities relating to the flight will be tracked.
Even travel plans can be accessed simply by asking Cortana. A person can ask a broad question to see flights or be more specific in asking for information about flights going to a specific destination within a particular month. In response, all available details on the flight are pulled up by Cortana.
The day prior to taking a flight, Cortana will advise an individual about check-in times, provide links to the check-in page for the respective airline, and deliver current weather reports for the final destination. After arriving at the airport, Cortana will provide a map of the facility, which makes bag drop off and check-in faster and easier.
Cortana is also beneficial for foreign flights by providing a currency converter. Compared to Siri and Now, it appears that Cortana is a much more sophisticated program that is highly beneficial for all flight travelers.