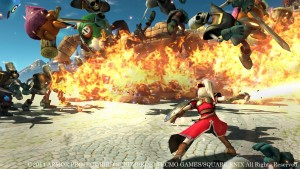 In an announcement from Square Enix, Dragon Quest Heroes: The World Tree's Woe and the Blight Below will be available on PlayStation 4 in North American starting on October 13, followed by Europe on October 16. The game was already shipped for PlayStation 3 and PlayStation 4 in Japan this past February.
Currently, Omega Force, a studio responsible for several top titles for Samurai Warriors and Dynasty Warrior, is developing Dragon Quest Heroes. This same company created the Wii U exclusive Hyrule Warriors last year, which has become a huge success. Based on history, the new Dragon Quest Heroes will be a "hack and slash" type of role-playing game opposed to a more traditional RPG that users are familiar with.
While fighting violent monsters because of a dark shockwave sweeping through the city of Arba, players will choose to fight as the Aurora or Luceus character. However, the heroes of the game will join forces with a number of iconic characters to include Yangus, Alena, and Binaca while trying to restore peace to an otherwise chaotic kingdom.
Once released, players will have a choice of two editions. The first is the Day One Edition, which is the launch edition that comes with 11 in-game items and the second, Slime Collector's Edition. In the first edition, content with a slime theme is downloaded to include Goomerang, Gooey Gloves, Gungenir, Slime Sword, and Squishing Rod.
In the second edition of Dragon Quest Heroes, the same content will be available but in addition, users will have other gear such as a Gooreat Sword, Slime-on-a-Stick, Splat O'Nine Tails, and Goopid's Bow. There are also bonus quest items in the second edition like Slime Key Chain, Slime Lanyard, and Slime Plushie.
While the Day One Edition is not yet available for preordering, the Slime Collector's Edition can be preordered solely at the online Square Enix store for $99. As part of the announcement, the company released a video to introduce the primary characters names.
Dragon Quest was not only the first action RPG but also the first title in a series spanning a 10-year period. Dragon Quest Heroes has remained highly popular among game-players and now with an anticipated new format, the makers believe it will garner an even bigger following.