When you want to send videos to colleagues, business partners or even clients – sometimes you will have to convert them first. After all compatibility is an important factor in a business environment, as the last thing you want is for the recipient to be unable to watch the video that you send them.
Naturally there are many other scenarios in which you will find that you need to convert business videos, ensure they are compatible with some of your own devices, create business DVDs, or even prepare them to be uploaded online. In all those cases you'll find that Movavi Video Converter will help you convert your videos quickly and effectively – without any hassle whatsoever.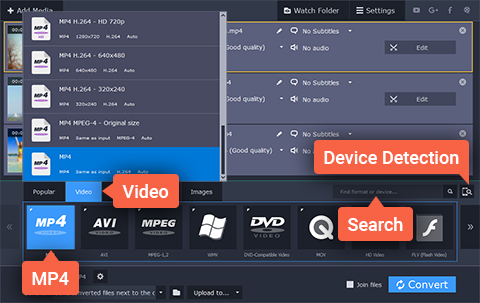 To convert a business video using Movavi Video Converter is really simple and all you need to do is add the video by clicking on the 'Add Media' then 'Add Video' button and selecting it. If you prefer you could even drag and drop the video into the main window as indicated, which may be faster at times.
Once you've added the video, you can select the format in the lower area of Movavi Video Converter. All the available formats are neatly categorized and so you should have no problem locating the one that you need. Alternatively you could use one of the presets to automatically optimize your video for a particular device or platform.
Sometimes you may need to compress video and make its file size smaller so that you can send it as an email attachment, or simply to conserve space. That can be done easily in Movavi Video Converter, and you just need to click on the file size in the output information and set it accordingly.
Keep in mind it is possible to convert as well as compress your videos at the same time, and when you are done setting it up you just need to click the 'Convert' button to get started. If you're dealing with numerous videos you could convert them in batches, rather than performing the same conversion on each video individually.
Make no mistake there are many other features in Movavi Video Converter, and you could use it to convert image and audio files, create animated GIFs, extract audio tracks, or grab screenshots. In fact it even has a built-in editor that you could use to cut and join video segments, improve the video quality, insert customizable captions, or crop and rotate the video.
As you can probably see, Movavi Video Converter will provide you with numerous benefits when dealing with business videos. Because of how easy it is to use, it is a great tool for when you need to quickly convert, compress, or even tweak your videos in other ways.