What would be the form of life of human in the present age of digitization without smartphones? It has a deep penetration in the lifestyle and plays a critical role in the digital ecosystem that has turned out to be a necessity for smooth living. Well, thanks to the operating ecosystem Android and iOS that brought the world together on a single responsive screen. However, the fact cannot be denied that iOS platform posses some great functionalities and features with respect to quality. iOS of Apple is integrated with superlative software and hardware, with appreciable outcomes. But at the end, every advanced technology or device that stands out from the common one does have some constraining factors as well, majorly in terms of the interface and functionalities.
And iOS has those constraints and restrictions as well such as the necessity of iCloud and iTunes for performing basic transfer of files amid any other device.
We know every iPhone user has witnessed these situations. But as we know nothing is permanent, we do have a solution named as IOTransfer, which is a transfer software to manage your iPhone through Windows without getting into those complicated traditional methods.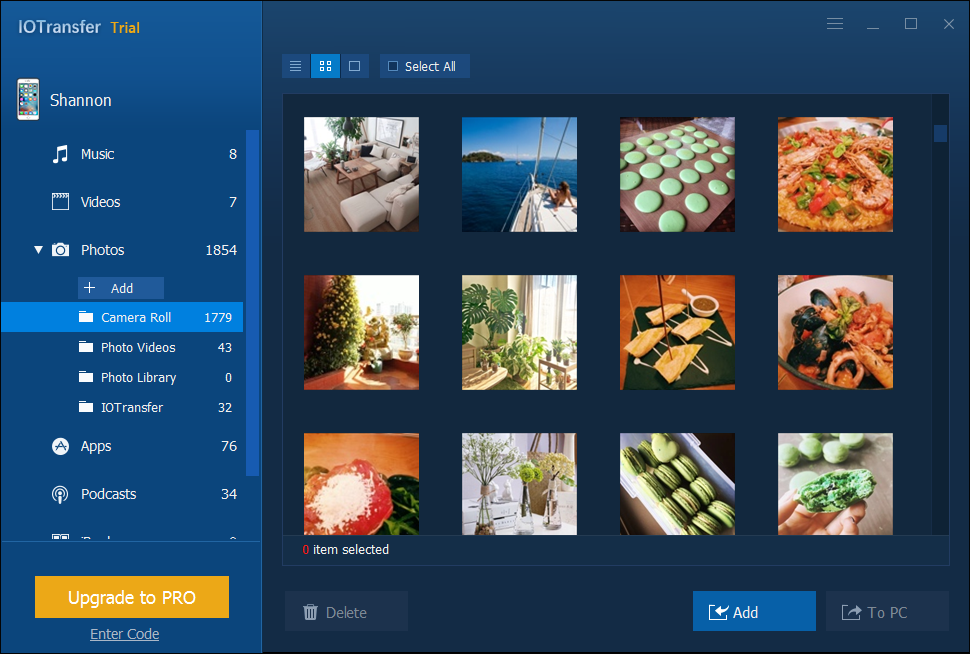 Just stop playing the migration game on iTunes and iCloud and go find IOTransfer—a one-stop solution for all the tasks associated with your phone. IOTransfer acts as free iPhone manager as well as a medium for iPhone video transfer between your PC or Mac and phone.
How IOTransfer simplifies the data shifting job?
IOTransfer provides straightforward and convenient ways to transfer your data among your Apple devices to your PC or Mac very quickly. With its spontaneous and simple user interface, any apple users can import and export music, videos, photos, podcasts, books and voice memos between their Apple devices and their Mac or PC.
With its convenient and seamless transfer methods, it makes it too easy for storage management. Various tasks such as import and export of music files, voice memos, podcasts, photos, and books can be carried out through its simple and spontaneous user interface. User Interface is one significant characteristic in any application or software—the more sophisticated it is, the more response it will offer through the platform. Similar is the case with IOTransfer; it is designed in such a way that a person with zero knowledge of computer can also render around effectively.
Coming on to the memories, it hurts when we lose a single picture from our phone, right? Normally what we do is access the iCloud and backup the data on cloud storage, which appears to be an intricate task and involves monetary transactions, as nothing comes free when you use an Apple phone. So the best option is to connect your iPhone to the PC or MAC through a USB cable, select the stuff you need to store, sit back and relax. IOTransfer also enables you to move high size videos and photos by messing around with import or export buttons … whatever suits the best.
Without getting too deep into parametric figures associated to transfer speed and overall size of the application, IOTransfer is very light in weight for management and transfer for Apple users, with swift synchronization amid both the devices. Speaking about the compatibility of the software, it works well with Windows 7 and its upper versions, while in Apple's case, IOS 8 and upper version till IOS 10.3 is supported.
In short, IOTransfer acts as a bridge to connect the iPhone and the PC or MAC for uninterrupted data transfer, which appears to be more opportune than what the Apple users used to imply for transfer operations. On a single click, your entire data will be transferred in a secure and extremely reliable way. The subscription is available in two versions: a free version and a pro version. The free version based services can be availed based on the usage, while the applications also has a pro version at $20 with 1 Year subscription, which comes with a package of unlimited file transfers.
So get the most convenient transfer application, IOTransfer, which is also an iPad and free iPhone manager as well and get rid of the obscure method of data transmission and other media attributes.
Feel free to share your views for this free iPhone manager as well as an iPhone video transfer medium.