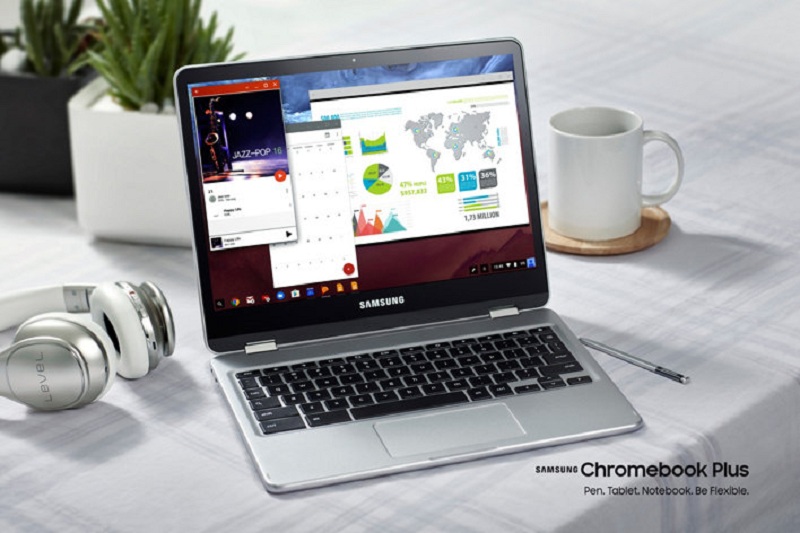 Samsung, which was in lime light for its issue with Note 7 in 2016, has launched 2 new laptops in the current CES 2017. It surprised all of us by revealing two gadgets at the same time. The company launched its Samsung Chromebook Pro and Samsung Chromebook Plus. Let us have a look at the specifications.
Buy At amazon india: Chromebook Pro & Chromeboo Plus
The screen of the new Samsung Chromebook Pro has an LED display and is of 12.3-inch in size. It also has Gorilla Glass with a pixel resolution of 2400 x 1600. The device runs on Intel Core M3 processor. It has 4GB of RAM and 32 GB of internal memory.
Simultaneously, Samsung Chromebook Plus has the same 12.3-inch LED display along with a pixel resolution of 2400 x 1600and a Gorilla Glass. The device is powered by OP1 Hexa-core (Dual A72, Quad A53) processor. The gadget has 4GB of RAM and 32 GB of internal memory.
When it comes to camera, the new Chromebooks  have a rear camera with 8MP as well as a front camera of 720p. In the connectivity section, both the Chromebooks offer various supports such as 4K video output, 2 USB Type-C ports, which support charging, Wi-Fi, a MicroSD Card Reader, and Bluetooth. The firm is confident enough about the Chromebooks that they can provide up to 8 hours of battery life.
Well, Samsung really had put some efforts in the development of these Chromebooks. But in the age of smartphones and laptops, do you think that people will give response to it? Do let us know your thoughts.