The Rio Olympics 2016 is going on in full swing with participants from various countries aggressively competing with each other to win medals. It's not possible for all of us to sit before the Television sets all the time due to tight work schedules. Hence, you need to install mobile apps which will provide you with relevant information about the various events including winners and medal tally. In this article, we will cover best apps available for the Rio Olympics.
The Olympics – Official App
The Olympics is the official mobile app designed and developed by International Olympics Committee exclusively for Rio Olympics. The app provides a glimpse of gold medals, Olympic records, performing athletes in addition to magic sporting moments.
You can not only know about the happenings in Rio 2016 but also PyeongChang 2018, Sochi 2014, London 2012, Vancouver 2010, and Beijing 2008. You can also know about the past Olympic events including the date and time of their occurrence.
The app also provides relevant news about various activities including a list of all the current and upcoming schedules. You can just view the time of your favorite sporting event and watch TV. With the app, you can keep track of winner by game, athlete, and country.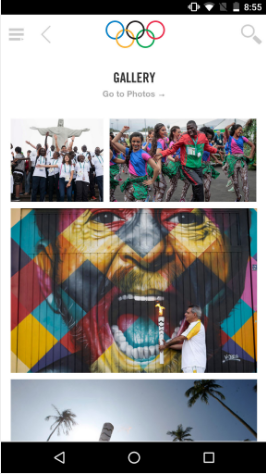 NBC Olympics – News & Results
NBC Olympics is a popular Olympics-related app from the NBC, USA. You will be able to keep track of real-time results, medal standings, live streaming, expert video analysis, alerts, notifications, news articles, photo galleries, athlete bios, news and featured articles relevant to Rio Olympics. Moreover, the app includes an exclusive coverage of all things Team USA with integrated 2nd-screen "Primetime Companion" feature.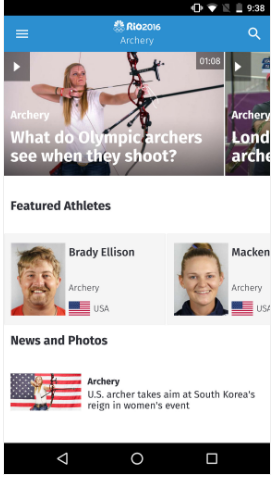 Rio 2016
Available in English, Portuguese, Spanish, French, Mandarin Chinese, Japanese and Korean, the Rio 2016 features latest and reliable information on the Olympic schedule, results, medals, sports, athletes and teams, maps, venues including comprehensive guides for spectators. If you are visiting Rio de Janeiro to watch the events live, the Rio 2016 will be useful since the app provides tips for spending time in the magnificent green city.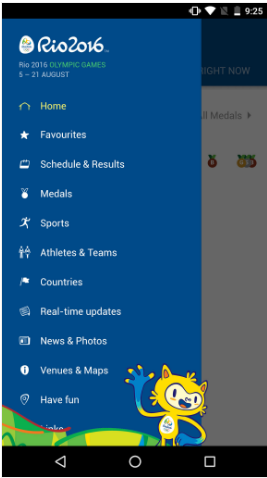 theScore: Sports Scores & News
theScore provides detailed analysis and real-time coverage directly from Rio 2016. The app loads amazingly fast and can be customized easily. Moreover, you can fetch real updates with comprehensive live statistics. With theScore app, you can not only watch live happenings at Rio 2016 but also NFL, MLB, NBA, NCAA Football, NHL, EPL, La Liga, Champions League, World Cup and all major sports.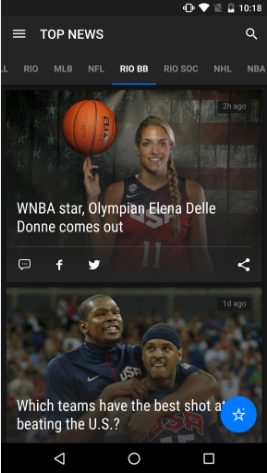 ESPN
When you talk about sports, ESPN comes to your mind first. The ESPN mobile app enables you to watch all the latest from Rio 2016. You just need to install the app and select Rio 2016 option. If you select the News option, you will view live news coverage of various events. However, the app is not comprehensive for the Olympics. It will not provide you with the complete fixtures, winners and medal tally.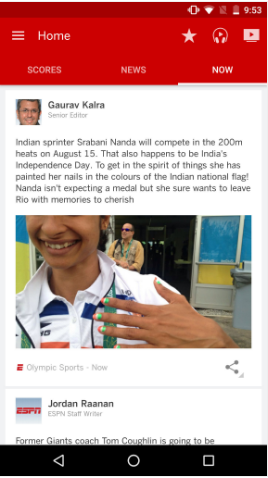 To install all the above-mentioned apps, you should tap on the Play Store option on your smartphone and search using the app names.