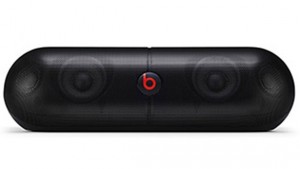 Approximately 233,000 Beats Pill XL speakers in North America are being formally recalled by Apple due to product overheating complaints. To date, eight complaints have been received, one in which an individual sustained minor injuries and another where a person's desk received damage.
According to the Consumer Product Safety Commission, the recall involves the Beats Pill XL portable wireless speakers sold since January 2014. Speakers were sold throughout the world with the majority in the United States and a significantly smaller number in Canada.
At least for now, Apple is suspending sales of the speakers, this according to Tom Neumayr, company spokesman. Apple and Beats stated that by far, customer safety is the most important thing, which is why the product is being voluntarily recalled.
The speakers were developed prior to Apple purchasing Beats last year for $3 billion. Consumers who purchased the speakers can request store credit or a refund for $325, which is actually more than the original selling price.
In order to get a credit or refund an individual has to submit an online request. However, for shipping the item back, Apple will pay. The company also stated that it will take about three weeks to process credits or refunds.
Unfortunately, Apple has struggled with other products having overheating problems. In 2006, more than one million batteries used in PowerBook and iBook computers were recalled due to a fire hazard and then just last year, the company offered consumers replacements for possible faulty power adapters used for a number of iPhone models.
For the Beats Pill XL recall, Apple has concerns that the overheating batteries could cause risk of fire. After being advised of the complaints, the company made the decision to stop shipping the product and offer current owners of the wireless speakers with a store credit or refund.
When visiting Apple's online store, the Beats XL speakers are listed as being unavailable. However, a number of New York-based stores still carry the product. At this time, no information has been provided whether the overheating problem will be corrected or if Apple will permanently pull the Beats XL speakers from stores.