The Eurasian Economic Union (EAEC) has reportedly issued new certificates for AirPods, iPhones, and the upcoming Apple Watch models. This development means that the Cupertino-based company is all set to release wireless earphones and multiple variants of Apple Watch alongside the iPhone 7 and iPhone 7 Plus. As a manufacturer, Apple is required to certify electronic devices for sale in EAEC countries such as Armenia, Belarus, Kazakhstan, Kyrgyzstan and Russia. You should not say that the specific country should have signed the EAEC treaty. If a treaty is signed, then the concerned manufacturer should procure the required certificates for all the new devices. Otherwise, Apple will not be able to sell the phone and accessories in the country which has an active EAEC treaty in place.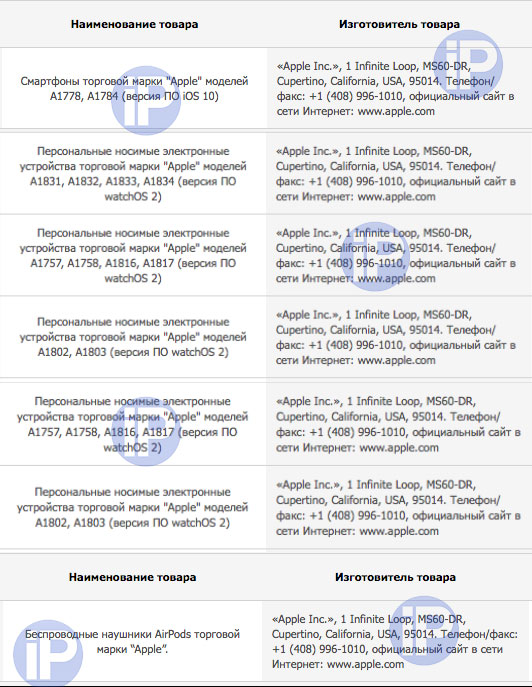 In the meantime, Russian website iPhones.ru, yesterday identified a reference to "AirPods" on the regulatory body's digital products registry. The website found it along with other certificates of Apple.
Original AirPods trademark filing spotted in October 2015
In July, MacRumors disclosed that a trademark filing with the brand name "AirPods" has been discovered in October 2015. This confirmed the presence of wireless earphones, which can be plugged into the lightning connector port. The Apple iPhone 7 will not ship with a traditional headphone jack. Hence, you will not be able to make use of a conventional wired earphone.
AirPods may/may not bundle with iPhone 7
Even though the presence of AirPods has been confirmed, we don't have any confirmation as to whether Apple will bundle it with the new iPhone packages. There is a possibility that Apple will offer free AirPods to all customers who pre-order the new phone within a specific period of time. We can also confirm that the new AirPods will also be available for purchase as a separate accessory.
Apple Watch 2 listed running watchOS 2 instead of watchOS 3
When inspected, the documents also reveal new certificates for the forthcoming Apple Watch. Interestingly, the new wearable device was listed as running watchOS 2 and not watchOS 3. Apple had released a beta version of watchOS 3 at the WWDC 2016. Hence, the Apple Watch should ship with this new mobile wearable operating platform.
Apple Watch 2 features
The new Apple Watch 2 equipped with improved water-resistant features. Moreover, the new wearable will be shipped with an improved processor, a built-in GPS chip. However, you need not have to expect any cellular integration.
We also spotted two certificates which clearly state that the products will be running iOS 10. This signals the likely arrival of iPhone 7 and iPhone 7 Plus. Apple will release the new iPhone 7 on September 7.
The version number coincides with the date of its arrival. Apple is always smart in picking launch dates. According to rumors, the iPhone 7 will be available for pre-order from September 9.