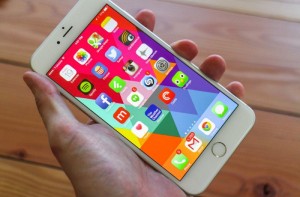 Apple (NASDAQ:AAPL) iPhones running on the iOS 8 operating system have been crashing left and right due to a text messaging bug that is causing havoc with the devices. If the iPhone owner receives a certain text message, the bug will cause the iPhone to crash and reboot on its own.
This latest bug is not something that would affect a wide audience. The message must contain a specific series of Arabic characters to affect the iPhone in the described manner. If your iPhone is locked, and you receive a notification of the new text, iMessage crashes and your iPhone proceeds to reboot.
The issue is not the Arabic characters that appear in the text. It is how the iOS operating system deals with the full text string, according to AppleInsider. When your phone is locked, the notification of the message uses too many of the phone's resources to display the Unicode characters.
If the same text string is sent during a normal iMessage conversation, the iPhone did not crash or reboot. This indicates that the problem lies with iOS's notifications process, not the iMessage app.
To be affected by the glitch, that specific string of characters must be texted to you while your iPhone is locked. That means that it would be most likely that you received it from someone who knows your mobile number and is purposely trying to crash your iPhone.
The bug was first revealed by a Reddit user. Since then, several iOS users have also reported the problem on Reddit and Twitter. Some of those affected have reported receiving the text message as a prank.
The new iOS 8 operating system has been beset by glitches since its release last September. Apple has been forced to continually issue updates to resolve issues with the operating system.
Apple senior engineers apparently know about the bug and are likely to have a resolution available in the next update to iOS. The new iOS 8.4 currently in beta testing, so Apple may have time to issue a fix before the update is rolled out. Until then, users can turn off notifications for text messages or simply trigger another text message that essentially cancels out the old one on the notifications screen.