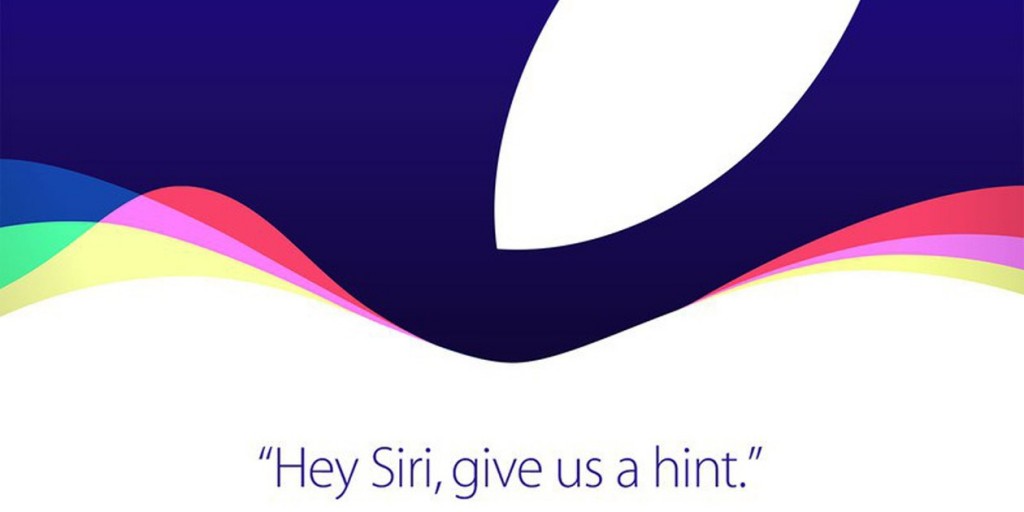 SAN FRANSISCO, CA- Apple Inc. (NASDAQ: APPL) At a recently held Apple Event, Apple announced a new product, the iPad Pro. It is essentially an iPad with a bigger screen. Apple, of course, aimed at their higher skilled, professional users with this product, hence the Pro suffix.
Dimensions and weight
Weighing in at just 1.57 pounds (0.71 kilos), it is quite light, keeping in mind it's a 12.9-inch screen tablet.
While the height and width are not specifically listed on Apple's website, Tim Cook did tell us it is as wide as the height of the iPad Air 2, if that makes any sense to you. It is 6.9mm thick and will be available in Space Grey, Gold and Silver in November.

The Display
The iPad Pro is rocking a glorious 5.6 million pixel, 12.9-inch screen. It is the highest resolution screen they ever put on an iOS device (2732×2048). This screen is much more complicated than you think. "Oh what? They just enlarged the display?!", well…no. Apple changed many things about the Retina display. It now features a variable refresh rate, which basically allows the device to save energy when the content is using less frames per second.
Quite remarkable, right? That's not all. Underneath the glass lies a revamped Multi‑Touch subsystem, allowing you to "touch every pixel" with your Apple Pencil.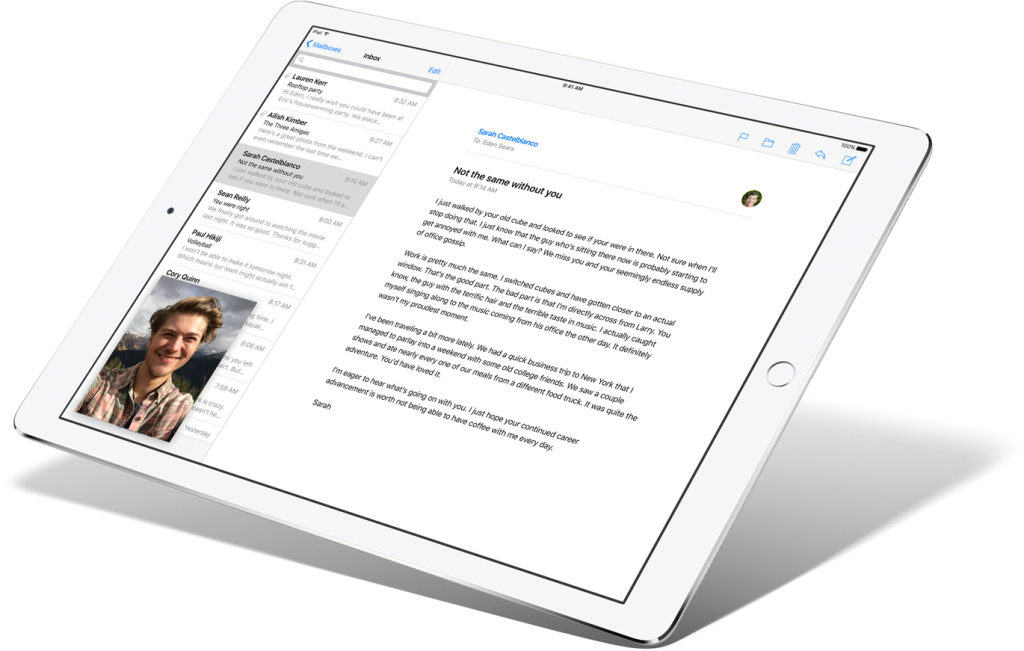 Apple Pencil? You have to be kidding!
Well, we are not. Apple Pencil is really a great input device. Since Apple is aiming the tablet at people who use it to make a living and not just to play games, they had to make a device which will allow them to get the most out of that beautiful screen.
When the iPad Pro senses this incredibly responsive device, the subsystem changes mode to scan its signal at an astounding 240 times per second- that's twice the data points it normally collects with your finger.

The Apple Pencil is also pressure sensitive, so when you apply more pressure, the drawing you are doing becomes thicker and for the first time on a tablet, you can shade your drawings. It has a Lightning connector, so when it loses charge, you just pop the ending off and stick it in your iPad Pro. 15 seconds of charge gives you 30 minutes of use, according to Apple.
The cameras
As cameras on the iPhone get better, iPads get the camera from the last phone, so the iPad Pro packs a 8MP, iSight camera on the back of the device which allows you to take magnificent pictures with your 12.9-inch tablet.
It allows recording of videos at a resolution of 1080p at 30 frames per second and slow motion recording at 720p at 120 frames per second. The camera also has geo-tagging for both video and pictures. The shooter embed on the front is a FaceTime camera shooting 1.2MP pictures supporting burst photos and it records 720p video.
Specs
Under the hood is an A9X chip, Apple's third chip with 64-bit architecture. Apple claims it is 1.8x faster than the chip that is found in the iPad Air 2, A8X. The Event's slide on the presentation showed us that the new processor is 22x faster in CPU performance and 360x faster in GPU performance than the first generation iPad, released back in 2010, which is astonishing.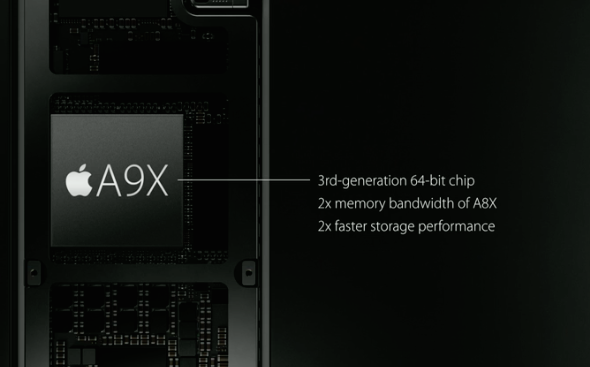 The A9X processor offers double the memory bandwidth and storage performance of the old A8X, and as we heard from Phil Schiller, it offers "desktop-class performance".
It is faster than 80 percent of the portable PCs that shipped in the last 12 months," says Schiller. "In graphics tasks it's faster than 90 percent of them."
Extra features
New speaker system?
iPad Pro offers a new 4-way speaker system. The speakers are placed on both sides, two on the lower ends, and two on the higher. They feature a technology that adapts the volume of the speaker depending on the way you tilt the iPad Pro.

New TouchID
The iPad Pro also comes with a newly updated TouchID, which is up to 2x faster than the previous installment. On the side of the device is a Smart connector which will allow you to connect with iPad Pro accessories, like the Smart Keyboard.
Connectivity
The iPad Pro will be available in both Wi-Fi only and Wi-Fi + Cellural models both having Wi‑Fi 802.11a/ b/ g/ n/ ac dual channel chips (2.4GHz and 5GHz) and the Wi-Fi + Celurall will give you pretty much all the bands you can name (UMTS/ HSPA/ HSPA+/ DC‑HSDPA) and LTE plus Assisted GPS.
Pricing and availability
Wi-Fi models will run you $799 for the 32GB version and $949 for the 128GB version while Wi-Fi + Cellural only comes in 128GB, running at $1079. Circulation of the tablet is expected sometime during November.
Apple Pencil is $99 and the Smart Keyboard, just $169.