CUPERTINO, CA- Apple Inc. (NASDAQ: AAPL) The technology giant has announced that its iOS 9 software has hit an adoption rate of 6 out of 10 devices.
Apple released the first version of iOS 9 a month ago and things definitely look good for the Cupertino giant. With the roll out of iOS 9.1 yesterday, the company announced that the software has attained an adoption rate of 61%- meaning that for every 10 Apple devices, 6 of them are powered by iOS 9.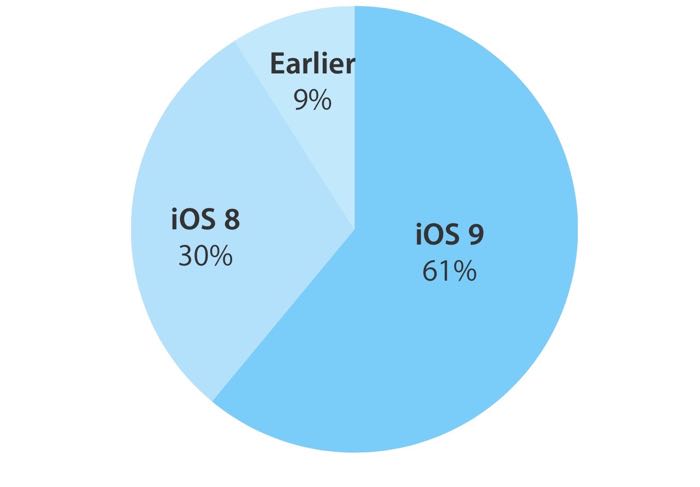 MUST READ: Apple iOS 9.1 released: Over 150 new emoji, bug fixes and Apple News for the UK
The previous iteration of iOS, iOS 8, that time last year had achieved a 30% benchmark-half the percentage of iOS 9.
Apple's iOS 9 software did came up with a lot of bugs in the first two versions, 9.0.1 and 9.0.2, including battery draining out of nowhere, some users could not update their apps while others reported that the Mail app had been withholding actual emails.
Despite the above, the Apple fan base showed loyalty to the company for yet another year and it did not remain to the safe place that iOS 8.4.1 was, until the complete iOS 9.1 comes out.
When it comes to the latter, as mentioned above, it was launched yesterday fixing all the severe and minor bugs that have been reported from all over the world, while adding over 150 new emoji -including the middle finger-, performance enhancements and a UK edition of Apple News.
We believe that iOS 9.1 will come with some bugs as well, but we are quite confident that Apple has addressed the major ones- the ones that made people downgrade to iOS 8.4.1.
Switching to iPhone 7 rumors for a brief moment, Barron's says that the handset will be sporting a Sapphire display, bigger battery while it is highly probable to see Apple killing the home button this year as well.
MUST READ: iPhone 7 rumors: Sapphire display, bigger battery and Apple kills the Home Button
To download iOS 9.1 head up to Settings > General > Software Update, or via iTunes on your computer. The size of the update is 300MB, so make sure you have enough storage space left.
How satisfying was your experience with iOS 9 so far? Let us know in the comments below.
Via: Ubergizmo, Geeky Gadgets
Source: Apple
Featured image credit: MacWorld UK