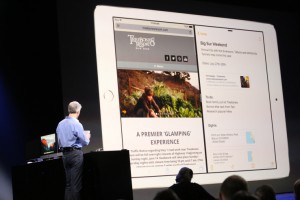 Although some hoped the iPad would work in a similar fashion to a real desktop computer, the never happened, something most evident by the inability to multitask. There have been a few developers who worked on side-by-side multitasking for the iPad but none really succeeded.
For instance, three years ago an application called Tapose was introduced that allowed an iPad user to view two window panes. Typically, one window was the primary journal editor and the second used for a browser, calculator, map, or other simply tool that was referenced when a journal entry was created. This particular application is still available but the problem is the developer was not permitted to work on the operating system, preventing it from being used with additional applications.
Now in 2015, restrictions earlier placed on developers like those responsible for Tapose have been lifted. At the WWDC 2015, Apple announced that now, iOS 9 will allow iPad users to have two applications displayed side-by-side. Using the popular swiping gesture known as Slide Over, the user can slide to one of the built-in applications in the second window while Safari remains as the bigger window.
Some people struggle with this, forgetting which swipe brings the second window pane in. However, with the pull-down gesture offered by Apple, additional applications can be brought into the Slide Over view in conjunction with the Safari browser. When working in the Slide Over, Safari becomes inactive during the time the second application in the other frame is being used.
Another unique feature is the second split screen mode, which on iPad is formally called Split View. This mode activates simply by tapping the divider shown between two applications. When in this mode, two screens have the ability to interact. Picture-in-Picture is another feature that makes it possible to get on a FaceTime call within a very tiny window overlapping a second application when the larger second window is used.
Keep in mind that once iOS 9 is released later on this year, multitasking will be supported by Apple but for third-party application developers, they will be required to provide support for the applications they own.
Any device that currently operates on iOS 8 to iOS 9 can be upgraded but the special multitasking features will only work on iPad models that have been released recently. For both Slide Over and Picture-in-Picture, these work on iPad mini 2 and 3, as well as iPad air and iPad air 2.