Google has released the Android Nougat developer fifth preview before the scheduled final refined release within the next upcoming months. The preview is available for Nexus 6, Nexus 5X, Nexus 6P, Nexus 9, Pixel C devices including Android One devices. As a user, you will be able to fetch the update both via OTA and system images.
Touted to be the final preview, the recently released preview features the latest version of Android Nougat emulator, which will be useful to perform final app testing and to know about the latest system behaviors, bug fixes including improvements to both system-wide and pre-installed apps.
Even though there are no user-centric features in the release, Google had infused minor tweaks to the user interface between the first and fourth developer previews. According to official sources, the fifth preview provides developers with all the required system updates for all the supported preview devices.
How to get Android Nougat Developer Preview 5
To obtain the Android Nougat Developer Preview, you need to enroll in the Android Beta program. If you are already enrolled in the beta program, you will get the latest developer preview 5 automatically via OTA. Otherwise, you will need to navigate to the official website of Android Beta program and opt-in your Android phone or tablet. If you prefer, you can download and flash the update manually.
Easter Egg Revealed
Google has integrated a secret Easter egg on the fifth preview of the Android Nougat Developer release. You can activate it by navigating to Settings | About Phone and locating the Android version number. You need to tap several times until a cartoon "N" appears.
If you press and hold the N, you will be able to small cat emoji below it. If you tap again, you will view a No Entry emoji. That's not the end. By keeping the No Entry emoji, swipe down your notification quick settings, and tap Edit.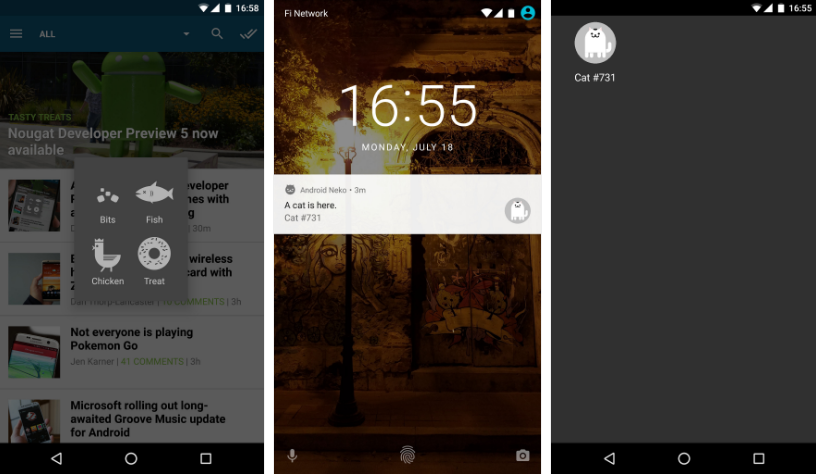 If you tap on the new "Empty dish" toggle option, you will notice a game where you have to feed a cat from an empty plate with either Bits, Fish, Chicken, or Treats. At the end of the game, you will receive a notification with a cat and number. If you tap on it, you will be taken to a new window with a smiling cartoon cat. If you long press on it, you will be able to share it as an image.
Earlier, Google had conducted a month-long voting campaign to find a suitable name for the upcoming version of Android. This time, the entire campaign went viral with aggressive participation via Facebook and Twitter.