Alcatel-Lucent S.A., (NYSE: ALU) The French telecom giant will be allegedly bringing its OneTouch Fierce XL phablet to T-Mobile, both the Windows 10 Mobile and Android 6.0 Marshmallow editions.
Last month, Steve Cistulli, Alcatel OneTouch's senior vice president for North America, spoke to CNET and confirmed that its flagship OneTouch smartphone line-up will be joining the Windows 10 mobile family soon. Though, there was no mention regarding any aspect of the device.
So a month later, famous mobile whistleblower @evleaks shared an image on Twitter which is allegedly portraying Alcatel's upcoming Windows 10 Mobile handset, the Fierce XL.
The image included two variants of the handset, the first as we mentioned above is the Windows 10 mobile one, while the other accounts for a Google's Android edition. Moreover, the tweet mentions that both installments will be soon hitting US carrier T-Mobile's shelves, which essentially will be the first to get it.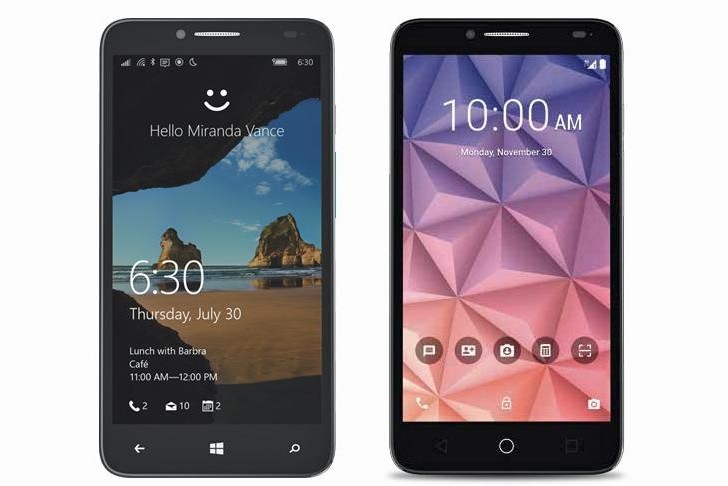 The two versions have identical hardware, the only change lays on the touch capacitive buttons, as the two operating systems have their very own design for touch capacitive buttons.
According to a report from phoneArena, the device should boast a 5.5-inch HD 720p displays, quad-core Qualcomm Snapdragon 210 processor, LTE connectivity, 2 GB of RAM, and 16 GB of internal storage space. Camera wise, the primary one, located on the back, should be shooting at 8-megapixels, while the secondary, located on the front, should be packing 2-megapixels.
Both the Windows 10 Mobile and the Android edition will feature the same spec sheet.
As you may have figured from the aforementioned tech specs, Alcatel is not shooting for the moon with the Fierce XL, as it comes with a combination of mid-range and entry-level features, though we expect the pricing to be set accordingly, making it a quite good affordable Windows 10 Mobile phablet.
Overall, since competition is still not that high in the Windows phone arena, Alcatel could mark some remarkable sales figures if the device can handle the software solidly. When it comes to the Android side, it should be a bargain, since it does pack an HD 5.5-inch display.
What do you think of Alcatel's purported phablet? Feel free to sound off in the comments below.
Via: phoneArena (1), phoneArena (2), CNET
Source: @evleaks (Twitter)
Featured image credit: Cellcute.com