Did you know that even successful and profitable companies can run out of money? According to AC PowerCoaching's Agnes Cserhati, approximately 90% of businesses she works with have forecasts of profit margins for several years into the future but lack a basic cash flow plan. That is one of the common reasons that businesses fail. Instead of focusing on profits, turn your focus to your cash flow to ensure your business survives.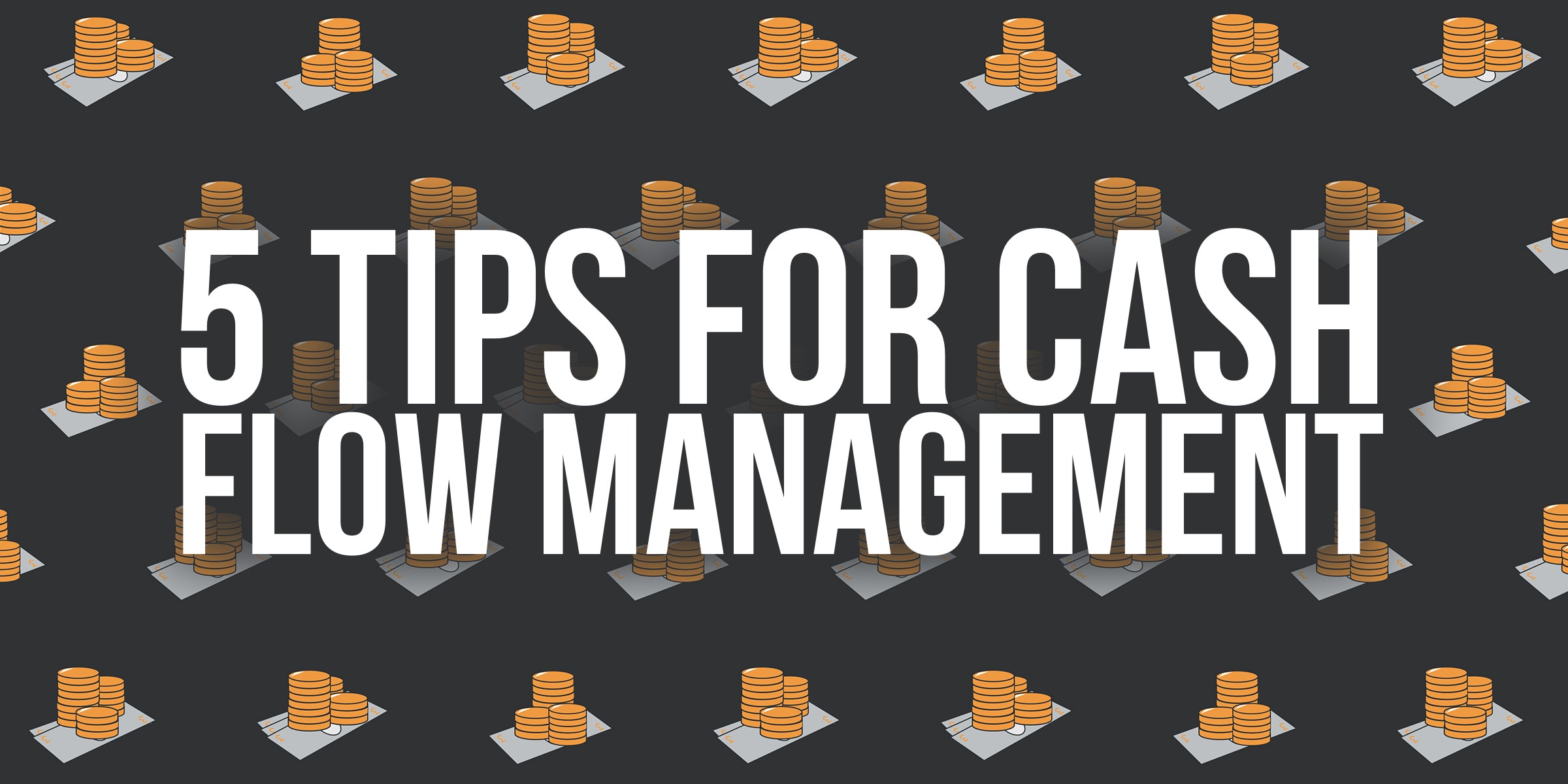 If you run a small business, ensuring a regular and steady movement of money in and out of your business is crucial for its survival. Here are five cash flow management tips that can improve the positive cash flow (the money entering your company is more than the amount of money going out) of your business.
1. Send out invoices immediately
Bill early and collect what is owed to you quickly. Many small businesses fail to invoice customers immediately. Some do not invoice customers as soon as products/services are delivered, they merely delay this task and eventually lose track of and forget how much money is owed to them.
By sending out invoices immediately, you will notice receivables coming in faster.
Ensure your invoices are easy to read with clearly-stated terms and conditions. Ensure the due date is stated clearly and in bold at the top and bottom of the invoice and payment slip. Provide clear instructions on the type of payments that you will accept. If you charge fees for late payment, ensure you include this information on the invoice.
2. Invest in public liability insurance
If your business faced a public liability claim, the mere financial impact of that claim could put yours out of business.  Public liability insurance helps your business continues to run smoothly, your cash flow is uninterrupted and you are financially protected, even if a customer, supplier or the public sues you for injury/death or damage to property. Check this article for more information on business insurance for the self-employed.
3. Make it easy for customers to pay
One way to ensure you get your money fast is by making it easy for customers to pay you. You can do this by offering incentives. Discounts are one type of motivation that customers find hard to ignore. You could provide early-bird discounts and discounts for early payments as well. Discounts work for both you as well as your customers and improve your cash flow.
Another way you can make payments easier for your customers is by offering multiple payment methods. Your customers might have preferred payment methods and familiar methods will motivate them to pay you on time. Some options you can provide include EFT, direct debit, cash, credit card, PayPal and even old-fashioned cheques. Don't forget to expand the alternatives you offer as and when new payment methods arise.
4. Delay your business's payable
By delaying your payable, you take full advantage of the time you have to pay your vendors and suppliers and ensure cash in your account. Hold back making payments for as long as you can unless there is a worthwhile incentive to make an early payment.
Find out how late you can hold back on making payments without risking late fee payments or harming your relationship with your vendors/suppliers.
5. Improve your inventory
As a rule, invest only in goods that sell fast but what do you do with goods that you have hoarded on but are difficult to sell? Take regular inventory checks and identify goods that you buy but don't sell at the same pace as other products. These goods can hurt your cash flow.
You might be tempted to hold on to goods that don't sell fast today, hoping that there will be a heightened demand for them in the future. Unfortunately, this rarely happens. If you have hoarded up on goods that are not selling today, concentrate on getting rid of these, even if that means selling them at a discount.
Finally, consider making better decisions regarding customer service, marketing, product/service development and gaining more customers. Ensure you update your business plan regularly and anticipate the changing needs of your clients and the trends in your industry. All these can impact your profits and cash flow.