According to the report, global soundbar market was valued at USD 2,327.0 million in 2015 and is expected to reach USD 4,886.0 million in 2021, growing at a CAGR of 10.6% between 2016 and 2021. In terms of volume, the global soundbar market stood at 12,155-kilo units in 2015.
A soundbar also called a speaker bar is a special speaker with multiple drivers, which is much wider than it is tall and always put on a computer monitor or under a television or home theater screen. It can significantly improve the sound experience of consumers, without complex matters of surround sound speakers, wiring, etc. for the whole family theater.
Request Free Sample copy of Research Report @ https://www.zionmarketresearch.com/sample/soundbar-market
Global soundbar market was mainly driven by strong demand from emerging market like China and Japan due to the decline in the cost of raw material associated to the soundbar. Another major factor is the advancing technologies and government policies to uphold the expansion of the industry. As the rapid development of the downstream market, the soundbar industry is also in a substantial increase in upgrading technology. However, the structure i.e. size and width of the soundbar may require space enough space to be placed. This may limit the demand for soundbar market. Furthermore, new technology and trends are likely to provide numerous opportunities in untapped emerging economies.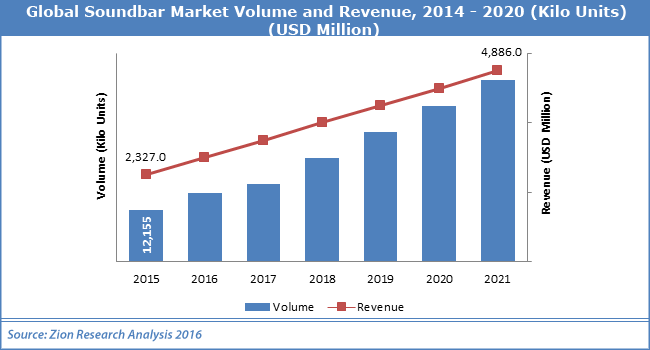 Versions 2, 2.1, 5.1 and other are the major product types of global soundbar market. In 2015, the soundbar market accounted for 30% share for the 2.1 product type among other versions. However, 2.1 soundbar systems are expected to continue this trend in future years. This growth is attributed to the excellent characteristics it delivers excellent audio performance with a wireless subwoofer and optional center channel for those seeking a powerful entertainment upgrade to their movie and music experience.
Global soundbar market includes music players, television sets, computer systems and other applications. Music players were the major segments that contribute significant shares of the total market in 2015 and further expected to continue this trend during the forecast period. The increase in events and parties in various industries such as corporate, sports, film industry, and others is expected to drive the demand soundbar in near future. However, television and computer systems are also important outlets of global soundbar market that is expected to growth within the forecast period.
Browse the full "Soundbar Market by Type (2, 2.1, 5.1 and Other) for Music Players, TV Sets, Computer Systems and Other Applications: Global Industry Perspective, Comprehensive Analysis, Size, Share, Growth, Segment, Trends and Forecast, 2015 – 2021" report at https://www.zionmarketresearch.com/report/soundbar-market
Among various regions, North America dominated the market of soundbar in 2015. This region stood around 35% shares of the global market. In addition, Asia Pacific and Europe region follow North America share by slight differences. Asia-Pacific is the fastest growing market for a soundbar. China exhibits significant share in 2015 and it also expected to perpetual market within the forecast period. Moreover, Latin America and the Middle East & Africa are expected to have significant growth during the years to come.
Some of the major players of the global soundbar market include Samsung, Vizio, Yamaha, Sony, LG, Philips, Panasonic, Sharp, Bose, Polk Audio, Harman and JVC Kenwood.